A new registered student organization protested at a pro-life campus demonstration in front of the David L. Eisler Center, showing two sides of the debate regarding the unborn.
On Oct. 20, the new Feminist Majority Leadership Alliance RSO stood with posters in hand, sharing statistics and phrases opposite pro-life demonstrators. The pro-life demonstrators represented the Protect Life RSO and stood behind graphic photos of "abortion victims."
While Protect Life has made their on-campus presence known for years, pro-choice counter demonstrations are an extremely rare sight for Ferris. Social work junior Jenna Pasfield is the president of the FMLA. She attended last Thursday's protest to inform students on the pro-choice stance, promote Michigan's third proposal in the upcoming midterm election and spread the word about her RSO.
"Us and a bunch of other pro-choicers are out here supporting women's rights," Pasfield said. "We are out here to make women on campus feel safe. We have a safe place for all women on campus, and that is in the FMLA.
Pasfield says the goal of the FMLA is to spread awareness of women's rights and try to make people feel "more welcome to have the outcast opinion, rather than the dominant opinion." While FMLA members and other pro-choicers stood with posters reading "keep the government out of my uterus," three pro-life demonstrators stood nearby behind large photographs depicting aborted fetuses at varying stages of development.
Organized by Protect Life, abortion victim photography is an outdoor display meant to go "beyond words when it comes to abortion by using a visual display." Though she is not a Ferris student, Emily Dimmick attended the demonstration as a Protect Life Michigan organization worker. She described the group's purpose as exposing the "reality" of abortion.
"We recognize that human life begins at fertilization," Dimmick said. "Any biology textbook will tell you that. We believe that all humans are equal and should have equal human rights, and abortion violates those human rights because it intentionally kills innocent human beings. We use these images to show the reality of abortion because these are real images of abortion victims, and they help break through the narrative to show that real human beings are being killed by abortion every single day."
Dimmick says she is used to people protesting against her and other pro-lifers. In these instances, she wishes more people would come and have a conversation with her on such an important topic. There were two other pro-life demonstrators who held up these images alongside Dimmick. Each demonstrator could be seen conversing with others who did not share their views.
"We don't hate pro-choice people," Dimmick said. "We don't hate women who have abortions. We support women, we care for women and we want to help women. We want to talk to these people and have a conversation with them, but I'm glad that they're free to express their opinions — just as we're free to express our opinions."
While the majority of the pro-choice students who gathered last Thursday were women, male students also shared their views. Social work junior Chance Wagoner was a spectator who came to see the protest. He said the images the pro-lifers were holding were "a little graphic," and he hopes that people can be respectful to each other, regardless of their opinions on abortion.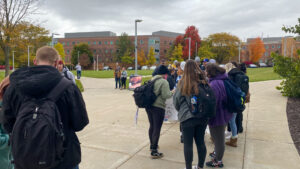 "From what I'm seeing today, I see a lot of men speaking up for women about this subject, and I will too… because I just think it's right for them to have what's best for them," Wagoner said.
Mari Kermit-Canfield, FLITE's Creative Learning Librarian and Coordinator of Research Services and the FMLA's co-advisor, was happy to see so many attendees. However, she was not as thrilled to see the information the pro-life demonstrators were sharing with students.
"I was really disappointed… because I think they could have really spread their message with correct information," Kermit-Canfield said. "You can be a person who wants to have a child without trying to force your views on others. If they wanted to talk about their reasoning, they could do it with correct information."
Kermit-Canfield is referring to an image of a fetus with fully developed arms, legs and a head. The photo asserted that this fetus was seven weeks old. Kermit-Canfield disapproves of promoting ideology through shock value and misinformation.
Both Protect Life and the FMLA can be found on Bulldog Connect. Protect Life meets on Mondays at 7:30 p.m., and the FMLA meets on Mondays at 5 p.m. To learn about Michigan's third proposal regarding reproductive rights, see page nine.