The Bulldogs have not lost since Sept. 16 against Northern Michigan. 
Ferris (9-3-5) played the Michigan Tech Huskies (7-7-3) on Friday and beat them 2-0. Following their win, they played Northern Michigan (10-2-5) on Saturday. This time, the game resulted in a 0-0 draw.
This weekend's win and draw kept the Bulldogs in second place of the GLIAC standings. A win over Sagniaw Valley on  Friday, Oct. 28, will lock them in as the #2 seed for the GLIAC tournament.
Friday's match started quickly when senior midfielder Katie Nestico scored just under four minutes into the match. Nestico's goal was her second of the season.
Nestico's goal was her first since the Sept. 16 match against Northern Michigan.
"Finally, it's about time," Nestico said. "I've been waiting for a long time."
Following her goal, scoring subsided. Ferris trailed Tech in shots 10-9 in the first half. Despite the edge, Ferris forced the Huskies to make six saves, while Ferris only made two.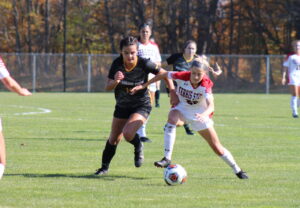 Opening the second half with a 1-0 lead, Ferris defended well and stifled any offense that Tech brought. Tech only had one shot throughout the entire second half and forced Ferris to make no saves.
The final goal came from Isabella Zamborini. Zamborini's 11th goal of the season helped solidify her as the GLIAC goals scored leader.
With post-season play approaching, head coach Greg Henson said his teams' mindset has to change.
"We have to start coming into every match with the playoff mentality," Henson said. "Today wasn't our prettiest effort. The game got a little bit ugly from both sides at times, and it kind of had that playoff feel to it a little bit. We got the win, and we figured out a way to score early and got that one late to close it off and make things a lot easier for ourselves at the end there. Overall, we just did what was necessary to win the game."
Sunday's contest was a defensive stalemate. Despite both teams registering double digits in shots, not one goal went past each team's respective goalkeepers.
Sophomore goalkeeper Darya Mosallaei got her second shutout of the weekend while picking up her sixth shutout on the season.
Mosallaei was pleased with her team and credited her defense.
"I think the defense plays really strong every time we play," Mosallaei said. "Lindsey Cole had a really big game-saving header to help me out in the last couple of minutes of the game. I was really appreciative of that. Overall, I think we did a really good job keeping them out."
Sunday's match was a "big redemption game" to Mosallaei and the team. The last time Ferris suffered defeat was a 3-1 loss to Northern Michigan back in September.
Ferris currently sits at #2 in the GLIAC standings. With one game left in the regular season, they failed to get a win against the other two teams in the top three of the GLIAC.
In their two ties to Grand Valley, they only scored once while giving up one goal. In their tie and loss to Northern Michigan, they gave up three goals while only scoring one.
According to Henson, this is not an issue with one game left in the regular season.
"This is a very tough league," Henson said. "I think those games and those results, we're right there. We had opportunities today to finish, we just didn't get it done. [I'm] not concerned at all. We'll find ways to find the back of the net. We did get it on Friday. A week ago against Grand Valley, we came back to tie them. It's all about just finding the result."
The Bulldogs will travel to Saginaw Valley on Friday to take on the Cardinals in their final game of the 2022 regular season.