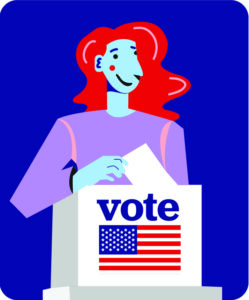 Voting season is right around the corner. For first-time voters, it can be easy to become overwhelmed without the right guidance.
To be eligible to vote, you must be 18 years or older and a citizen of the United States. Election day is Nov. 8, however, it's important to register to vote ahead of time. In Michigan, registering to vote can be done online, by mail or in-person. You can check your voter registration status by going to the Michigan.gov website. Registering by mail can be done by mailing a registration form to your local clerk. Registering to vote in person can be done by visiting a Secretary of State office.
Keep in mind that if your name is not on the registration list, your vote will not be counted.
Every city has a designated voting area that voters must go to in order to vote in person. Voters who need to know where their polling place is located should call their election office.
When voting in-person, it is important to plan accordingly, since the lines to vote are long and can take some time to get through.
Requesting a ballot by mail is an option for those who need an absentee ballot. Absentee ballots are needed in the case that a voter cannot be in their designated voting area on election day. The absentee ballot is considered early voting.
It is important to know what is on the ballot ahead of time. The ballot this year will include all Michigan House representatives. The gubernatorial election will also be on this year's ballot. Three big proposals in Michigan will also be on the ballot this year. Local school board elections and other small elections that are relevant to a voter's hometown will also be on some ballots.
Researching candidates and proposals is a very important part of voting. With a simple google search with reliable websites, anyone can figure out what they can expect when they vote for a candidate or proposal.
It is also important to know your rights as a voter. The voting rights of U.S citizens cannot be revoked or dismissed based on someone's race, color, sex or age as long as they are 18 or older.
There are also some other helpful things to note while voting. Voters have the right to stay in line to vote even if polls close before they cast their ballot. Voters also may ask for a new ballot if a mistake has been made on the original. If a machine goes down, voters are allowed to receive a paper ballot upon request.
It is important to know that voters should bring their ID to their polling location, which may be needed, especially if they're first-time voters.
Voting is how you can ensure that your voice is heard. Every vote means something, and that is why it is so important to vote.