The women's basketball season is quickly approaching, and after a very successful season last year, they will be looking to go even further this season.
The Bulldogs are looking for a repeat as the women's GLIAC champions, and, as they eye the tournament championship, they are looking to have more success in the NCAA Division II tournament.
Last season, the Bulldogs finished 22-9 and claimed the GLIAC North championship in the regular season. They then went on to win the GLIAC Championship. The Bulldogs were able to win their first-ever GLIAC tournament championship by upsetting rival Grand Valley, the top seed in the tournament, giving them their second loss on the season.
The Bulldogs were led by Adrienne Anderson, who had 18 points and was named the GLIAC tournament's Most Valuable Player.
The Bulldogs earned a NCAA Division II Tournament bid, but they lost in a close game against #2 Ashland in the first round of the tournament.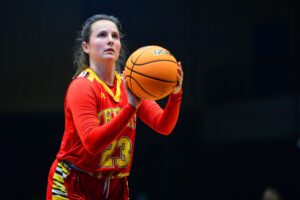 Going into this season, the Bulldogs will have to replace Anderson and other key players like Zoe Anderson, both of whom were seniors on the squad last year.
Adrienne Anderson played in 30 games last season and started all 30 games. She averaged 13.9 points, 4.0 assists and 3.7 rebounds per game, while shooting 38.5% from the floor and 37.6% from three-point range. She also led the team with 72 steals and had 18 blocks.
Zoe Anderson appeared in and started 32 games. She averaged 7.5 points, 4.4 rebounds and 1.4 assists, while shooting 38.5% from field goal range and 31.7% from three-point range.
The good news for the Bulldogs is they will have a good returning squad and some exciting new additions.
Returning key players are Chloe Idoni, Mallory McCartney and Kadyn Blanchard.
Idoni appeared in 30 games and started in all 30, averaging 11.8 points, 5.5 rebounds and 1.1 assists. McCartney played in 32 games, all of which she started in, while averaging 10.2 points, 4.7 rebounds and 4.8 assists. Blanchard appeared in 32 games and started 31 of those games, averaging 14.6 points, five rebounds and 2.3 assists.
All three of these players will be keys to the team's success this season. They will be joined by Kenzie Bowers, a transfer from the Division I Illinois State. Bowers averaged 2.7 points, 2.4 rebounds and 0.7 assists per game last season for Illinois State in her freshman season.
During her high school career, she scored 1,822 points and was Kent City High School's all-time leading scorer. In her senior year, she averaged 19.9 points, 7.2 rebounds and five assists per game and was named the 2021 MLive Muskegon Region Player of the Year. Other accolades from her high school career include all-state, all-conference and all-area honors.
The Bulldog's season opener will take place in an away game on Nov. 11 at 6 p.m. against Ohio Dominican. The first home game will take place on Nov. 16 at 5:30 p.m. against Northwood. This will be the first of thirteen home games this season.