With abortion rights on the midterm election ballot, Ferris and Big Rapids community members gathered in Mitchell Creek Park to show support for women and reproductive rights.
The Feminist Majority Leadership Alliance co-partnered to help organize and promote the event. President Jenna Passfield, Vice President Jennifer O'Connor and secretary Samara Tyus were tabling to promote their RSO, while also expressing their feelings for women's rights and Proposal Three.
"Yeah, that's one thing I hate, the signs all around Big Rapids [that say Proposal Three is] 'too confusing, too extreme,' when it's not at all confusing or extreme," Tyus said. "I came from Saginaw, which is a very diverse, very liberal town. It's so different for me. And it's kind of it's sad, honestly, to see how many people don't want us to have our basic human rights, but it's something that I've gotten used to unfortunately."
Lead rally organizer Julie Alexander was affiliated with every table at the rally. She explained how the march is a group effort; the people here represent their own organization, but the marchers share a common goal. Alexander hopes that the march will show that there are people in Big Rapids who are fighting for the rights of women. Alexander clarified that their cause is a human issue, not simply a woman's issue. It is an issue that concerns the individual and their access to health care and the sovereignty of personal choice.
When Roe v. Wade was overturned, abortion became subject to the discretion of state governments, instead of the federal government. Michigan voters will be voting on this issue on Nov. 8, when they vote on Proposal Three, a proposed amendment to the Michigan Constitution that would protect people's reproductive rights.
Nurse practitioners Emily Nelson and Katie Piippo bought their medical expertise to the march. Piippo worked as a sexual assault examiner for many years before becoming a nurse practitioner.
She spoke about the challenges survivors have to face after they are assaulted, such as evidence collection and reporting the crime, which can be as traumatic as the actual event.
"You try to make it as empowering of an event as you can, but it's still invasive, and hard and intrusive, and there's no way to make it less so," Piippo said.
"Above and beyond all these things, I'm a mother, I'm a daughter, I'm a sister, I'm a friend," Piippo said. "As as a woman, I have value beyond my reproductive ability… It shouldn't be a controversial position. It shouldn't be controversial to say those things. Access to health care is already difficult in our area and in the surrounding rural communities."
Piippo asked the crowd, "So what do we do?" Her answer: vote. Make sure our loved ones are getting out there and voting, and then talk to family members and shine a light on this topic. Piippo reminded the crowd that this topic is not far away, it is right here in our communities, and it affects people you know and love.
"My abortion was not a tragic story," Piippo said. "It wasn't a horrible, traumatic situation. It [just wasn't] the right time in my life, and birth control [failed]. I am so grateful that at that point I had the option, and I had access to safe health care because my life is more valuable than my reproductive ability. Our lives matter. Your vote matters. So let's vote like our lives depend on it because they do."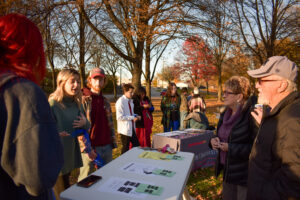 While Nelson wasn't a sexual assault examiner like Piippo, that doesn't mean she hasn't seen a lot of horrible things in her time. Nelson was raised in a conservative family but "came out of the womb a feminist." Nelson shared that working in the medical field for a long time helped her understand the importance of abortions as healthcare. In contrast to the opposition, she doesn't consider abortion to be murder because an embryo is whatever the mother sees it as, and she does not need to support a pregnancy if she does not want to.
Nelson continues to fight this fight because she doesn't want anyone to be deprived of their reproductive rights.
"I cannot imagine that my daughters… are at risk of not having the same rights that I had," Nelson said. "I was a sexual assault survivor, and I also ended up in a very… violent relationship. [When] I ended up pregnant…, I was able to go to Planned Parenthood, and I was able to have an abortion, which allowed me to separate myself from that violent relationship. If I did not have that, then who knows where I would be… I want everyone to have this choice to make forever because a politician should not tell us what should grow inside our wombs, absolutely never."
Mariah Phelps came from Kalamazoo to speak at the women's march on behalf of Planned Parenthood. Planned Parenthood in Big Rapids closed its doors in Sept. 2020. The closest one to Ferris is in Grand Rapids.
Educating the Big Rapids community was another important goal of the Women's March. One of the organizations present was the Anti-Violence Alliance. This Ferris organization focuses on education surrounding domestic violence. The AVA hoped to bring light to the issues women struggle with regarding sexism and violence.
Criminal justice student and AVA representative Hannah Francis spoke of the sexism she herself has faced. You are made to believe "you shouldn't do things because [you're] a woman," she explained. Francis has been demeaned and urged to "change [her] major into something more woman based." This was just one example Francis gave of the ways sexism has bled into the life of women; even in our own community at Ferris.
"Women view things as normal that they should not," Francis added. "People believe that woman should be quiet and submissive, and that is simply not true."
Many of the organizers pointed to Ferris' Museum of Sexist Objects as a good way to learn about these accepted misconceptions.
"[The museum] shows how our culture promotes sexism," Alexander said. "Whether it's through jokes, or memes or social concepts."
The midterm election will be held on Nov. 8. For more information on the proposals and how to vote, go to Michigan.gov or planmyballot.com
Nolan Harris helped contribute to the reporting and writing of this story.