In front of over 1000 total fans, Ferris volleyball picked up two wins over the weekend to stay atop the GLIAC standings.
Friday's opener against Grand Valley finished similarly to an earlier matchup on Oct. 8 — the Bulldogs outlasted the rival Lakers in a four-set thriller.
Ferris (19-9, 14-2 GLIAC) took the momentum in the opening set 25-20, but the Lakers answered in the second set virtue of a 25-18 victory. The next two sets went back-and-forth, but crucial blocks by Ferris and service errors by Grand Valley sealed a 25-23 win in set three and a 30-28 victory in the final set.
"We felt like this was going to be one of those point-for-point type of matches," head coach Tia Brandel-Wilhelm said.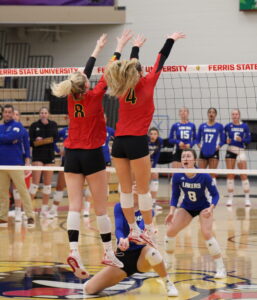 Syann Fairfield led the Bulldogs with 17.5 points. Claire Nowicki followed with 15 points and Olivia Henneman-Dallape with 14 points. Kaylee Maat added 44 assists in the contest and paced the Bulldogs with 18 digs and two service aces. Fairfield added seven block assists.
"We were really excited to get a win over such a good team," Brandel-Wilhelm said. "Grand Valley played very well and have a really big offensive team."
On Saturday, the Bulldogs kept their dominant play going with their fifth best offensive efficiency effort of conference play. Ferris registered a .325 hit percentage along with only eleven errors, their fourth best effort in conference play this season. The team used huge momentum swings all game long, including at least one unanswered, five-point run in all three sets. The Bulldogs won in three consecutive sets: 25-17, 25-15 and 25-18.
Fairfield said preparation was key for her team's back-to-back games.
"We focused on getting a good night of sleep, staying hydrated and [we] had a team lunch before the match. Obviously, we were a little tired, but we were still able to play hard and play well."
Fairfield led Ferris with 16 points individually, followed by Henneman-Dallape with 11 and Nowicki with 10. Maat added 41 assists and Nowicki recorded four service aces, a team high. Bylut carried the Bulldogs with 23 digs, followed by Emma Bleecher with 10.
Entering the final week of the regular season, Ferris currently holds a two-game advantage over Davenport and Northern Michigan, both 12-4, for the top spot in the GLIAC standings. This was a position many analysts didn't believe the Bulldogs would be in at this point, mainly in correlation to their preseason number four ranking in the GLIAC polls. Despite a new lineup with younger players and transfers coming in, Brandel-Wilhelm believes the team has continued to improve.
"We started off with a lot of new people," Brandel-Wilhelm said. "We had a lot of work to do early in the year, and I think we try to get better, not just in our volleyball play and tactics, but also in our relationships."
Ferris will host their penultimate game against Saginaw Valley on Friday at 7 p.m.