To be blunt, our student sections are abysmal, and they very much suck.
In my short time as a sports reporter, I've had the privilege of covering a cavalcade of different sports. Throughout, I've noticed a telling trend of underwhelming student sections.
Not all Ferris sports have a designated student section. In what I'd consider the biggest sports at Ferris, Division II football and Division I hockey, have designated student sections. Hockey's section is even titled "The Dawg Pound."
These student sections continually feel like they lack any energy. Take this year's Anchor-Bone Classic against Grand Valley.
In a record-setting crowd of 12,661 spectators, it felt like the visiting section of Grand Valley students and fans roared louder in comparison to the Ferris student section.
With such a close game with massive implications, at the time Ferris was the #1 team and GV was the #2 team in the country, GV's crowd came up loud and proud in the key moments.
To be fair, football's student section is very small and doesn't exactly help this issue. However, the issue at hand also indicates that not everyone stays for the full game.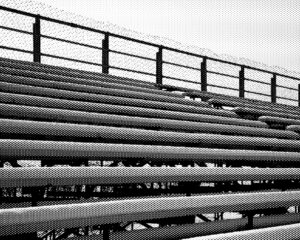 Following the GV game, the Bulldogs played against Michigan Tech on a beautiful day.
By the third or fourth quarter, the student section looked barren, and those who stayed seemed less energetic.
The same can be said with hockey. I'm well aware Ferris hockey has not been the greatest in the past few seasons. However, it's Division I hockey. It's the highest form of college hockey that you can get.
Come gametime, there are some pretty decent gaps in the Dawg Pound's seating. Alongside the lack of attendance, there is no energy.
The hockey student sections are notorious for being loud, obscene and very dismissive of the opposing team's goaltender.
Ferris is no different. With chants telling the goalie to "stay in his hole" followed by obscenity, the spelling of contraceptives, bodily fluids and the act of reproduction.
From what I have noticed, the first few rows are interactive and very fun and obscene. However, the farther you go back, the more you'll see students who don't care and don't participate in any form of spirit.
On top of this, those who do cheer don't know when to cheer. I've watched goaltenders Noah Giesbrecht and Logan Stein stand on their heads against a lot of shots or make a beautiful save and there's been nothing from the student section.
So, what gives? It's a hard issue to diagnose. You can make the excuse that Ferris hockey hasn't been great, but what about football? The team is the reigning national champions. Despite the one loss they suffered, their record suggests they're still an incredible team.
I've discussed the issues I've noticed with those who spend as much, if not more, time within Ferris sports. Despite this, I cannot figure out why this issue plagues our athletics.
To someone not within sports, this might not seem like an actual issue. Who cares if a student section is loud, it's not like they're playing the game.
I believe fans to be a big factor in games. From college to professional, fans are very much involved.
From Michigan football's loud crowd against Washington last year causing a timeout to be taken before the first play of the game, to the Pittsburgh Pirates' "Cueto" chant in the 2013 playoffs, which led Johnny Cueto to drop the ball and then give up a home run, fans can impact the game.
Although I don't have a diagnosis for the issues presented, I would like to leave the Ferris students with this final idea.
No one can expect every single student of Ferris to attend every single game here, however, in the chance that you, a Ferris student, choose to attend a game, be loud. Be proud. You're a Bulldog.