The LGBTQ+ Resource Center has gone into this new school year with no director, leaving the work to the student workers.
In May, former LGBTQ+ Resource Center Director, Sarah Doherty, left the position, leaving the tasks and day-to-day operations to the center's student workers. Now, near the end of the fall semester, no new director has been hired, leaving the student workers to continue the work of the director as best as they can.
The LGBTQ+ Resource Center is a space where students who identify as LGBTQ+ or allies can feel accepted for being their authentic selves. The center has hosted many memorable events such as Drag Queen Bingo and FriGay Games. They also have a closet filled with clothing for all genders to allow students to shamelessly discover who they are.
Public relations junior Faith Oom is a student worker that helps with things that comes up in the office. She says she has done a multitude of odd jobs, including assisting the Drag Queens that come to the centers' event nights and helping keep the resource center staffed during the day.
"I grew up in an environment that was very loving towards the LGBTQ [community]," Oom said. "It just always was a place that I felt very safe, and I wanted to make [it] safe for other people."
While Oom enjoys working at the resource center, not having a director has been tough. At the moment, Oom works alongside three other students in the center. Bryce Logenberger is currently acting as the stand-in director. Oom says Logenberger gives the workers directions, but when he can't, it's up to them to figure out what needs to be done.
"Longenberger is a student as well," Oom said. "He is handling so much at once and… also trying to direct three student employees. It's not an easy task. He's juggling a lot, and then has to also try to run the center. It's a lot on him, and, unfortunately, a lot of the work has kind of fallen onto the three student employees."
Running the center takes a lot of organization, planning and time. Oom said it can be difficult when each worker has other responsibilities to attend to alongside fulfilling the needs of the resource center.
"I definitely feel bad for Logenberger [because] he has to take a lot of that on with all of his other responsibilities, but he has been amazing through it all," Oom said. "He has never at snapped us. He'll be stressed, and you can tell he's stressed, but he is chipper and great… Without someone being a higher-up, it definitely is very hard to organize things, get things done and get the things that we [need]. Being students, we're not taken as seriously as someone that works for the school. It has made things extremely difficult, but we're trying to… get through it the best that we can."
Oom said she wished there had been a director present when they held their pride bingo event. The four student workers did not expect as many as 200 students to attend. Oom said the event would have been a lot easier if they had "[a director] and they didn't have homework, classes and a social life."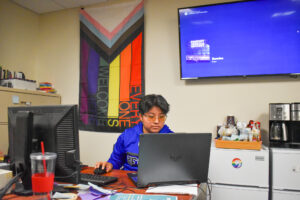 Social work sophomore Al Alley has been coming to the LGBTQ+ Resource Center and attending its events since the beginning of the year. They said the student workers have been doing really well.
"Especially for not having a director and everything. It seems like they're kind of on their own, and they're always so sweet," Alley said. "I come in here and do my homework, and they're always just so nice and willing to talk or willing to be quiet. So it's definitely like a safe space here, and they make it that way."
Biology senior Venessa Kwan agreed that the interns have been doing a great job running the center while also having their own responsibilities and obligations to attend to.
"For me, I feel the resource center has opened up," Kwan said. "From what I know, they're doing great at their job."
Kwan said last year the center was closed due to COVID-19, and due to such a small space, no more than two people could be in the room at a time. While their Discord channel was still active during this time, having the center reopened with people coming in has felt normal again. Kwan said anyone can come to the resource center and attend their events. It is a safe space for people of the LGBTQ+ community and straight allies.
For more information, students can head to LGBTQ+ Resource Center, which is across from the Center for Student Involvement or find them online on Bulldog Connect.