Dress for the job you want, not the job you have.
We're all instructed every day to dress accordingly to events. This could include wearing suits, dresses, skirts, blazers and blouses, plus more. But why do we do this? Because judgments are made within the first six seconds upon meeting someone, and your reputation is everything in the real world. So the question is, do you want to be seen as an intelligent and capable person or someone who just rolled out of bed?
General business sophomore Aliyah Clark believes that we send a message through our clothing every day. She explains that she takes pride in how she dresses for her classes.
"Going into the business field and being a businesswoman, it's important to practice building my representation," Clark said. "I feel my best when I know I look good and my outfit is put together."
Speech and debate coach Aimee Miller tells her students to make their outfits make sense for the occasion.
"A suit and tie aren't always necessary for a formal event or even for an interview. It all depends on the context of the situation," Miller said.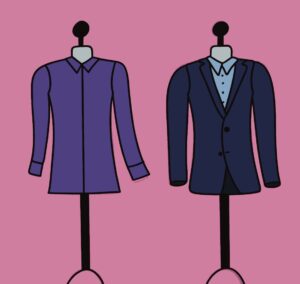 In order to be appropriately dressed, Miller believes that being aware of the norms and standards in each situation is important.
"I've seen a lot of students perform speeches in crop tops, ripped jeans, hoodies or hats. It's fun and fashionable but is rarely appropriate for a formal situation," Miller said.
As a college student, getting into certain programs and internships can be crucial for post-grad success. Learning how to act and dress professionally can be that deciding factor.
At the fall career and internship fair, students were dressed in formal attire, eager to score internships and learn about possible future careers.
Marketing junior Colten Cook dressed for the occasion so that he could look professional. He used his previous knowledge to decide on how professional he should dress for a career fair that was held in the gym of the student recreational center.
"Today I wore half a suit with a vest. I decided a full suit would look too formal for a college career fair," Cook said.
Cook believes that dressing and looking professional gives him opportunities to succeed in his career path.
Learning the standards of dressing professionally can open a lot of doors for students and recent graduates. According to BBC News, studies have shown that dressing in more formal attire can make workers feel confident and improve their work performance.