Disclaimer: This article includes discussion of alleged sexual acts committed against a minor.  
Ferris' Phi Sigma Kappa fraternity announced the immediate removal of member Cody Adkins last Friday, following the release of documents detailing instances of rape and dissemination of child pornography.
Carlton Thompson, advisor of Ferris' chapter of PSK, says the fraternity was "shocked and confused" by the allegations made against Adkins. An Instagram story from @phisigferrisstate said that Adkins' "alleged history" contradicts the group's core values.
Adkins is a junior in the health care systems management program and former employee of DeVos Children's Hospital. His time as a brother in PSK was interrupted by the disclosure and spread of a 14-page complaint and jury demand from 2020.
The documents tell the alleged story of a 16-year-old Adkins leading a 12-year-old girl, referred to as M.P., into the woods during an Edwardsburg Public Schools affiliated summer camp in 2017. Adkins was reportedly placed in the position of camp mentor despite a previous interview with the Edwardsburg Police Department, in which the student admitted to disseminating child pornography.
"Once they made it into a more wooded area, Cody began to get undressed," the documents read. "M.P. asked Cody what he was doing, and he responded, 'I'm doing you.' M.P. repeatedly said, 'Please don't,' while physically struggling to prevent Cody from raping her. Cody became very angry throughout the physical struggle and forced M.P. to perform oral sex."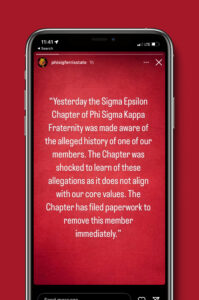 M.P.'s parents filed a lawsuit against EPS on June 26, 2020, after the "failure to conduct an investigation into the reported assault." The documents also state that Adkins had been named in "several" other sexual assault allegations reported to EPS and that EPS reported M.P.'s parents to Child Protective Services after learning about their decision to disenroll from the school.The Torch accessed further documentation from the lawsuit, including a 22-page amended version of the complaint and jury demand. The case closed on May 5, 2022, with M.P.'s family settling for $65,000 from EPS and an additional $30,000 from the Adkins family.
Word of the lawsuit spread to the Ferris community through social media. Product design engineering junior Kyle Johnson was one of, if not the first, many students to post about Adkins' allegations.
"I did a little digging to figure out if the information was true or not before I shared any false information," Johnson said. "I felt like this is something that his peers and people who do know him personally should know about him."
While Johnson never knew Adkins personally, he recognized his name in Facebook posts made by an Edwardsburg graduate. Johnson knew Adkins as a popular yet "controversial character" on campus. A large campus-wide reaction followed Johnson's posts.
"At first everyone was baffled by it," Johnson said. "Towards the end of the day, it was getting really rowdy and crazy. People were not happy with him or the fraternity." 
Many students took to the popular, anonymous, college social media app Yik Yak to voice their concerns. Yik Yak users organized a failed "protest" outside of the PSK house on Thursday night. Though several users declared that they were parked near the house, no mass of students exited their cars. A representative of PSK acknowledged Adkins' presence at the fraternity's haunted house event last month, which had minors in attendance. A plan to reach out to the families and children who attended had not been considered at the time of the group's statement.
The Torch previously reported on PSK's usage of the NightCap anti-spiking scrunchie. Adkins purchased 250 of the scrunchies to hand out during PSK's open house. NightCap has made no public statement, but did delete TikTok content which featured Adkins. 
It is unclear at this time why the story circulated around campus six months after the case was closed. However, all posts lead back to a single article posted by Conservative outlet Real News Michiana on Nov. 1.
Sandy Gholston of Ferris' News Services released a statement that reads as follows:
"The University is committed to a safe environment for its students, faculty, staff and visitors and will follow appropriate laws and institutional policies as it continues to monitor this situation."
Adkins was not available for comment on this story and his current whereabouts are unknown.
Dylan Rider, Noah Kurkjian and Marissa Russell contributed to the reporting of this article.