Ferris' "short staffed" Department of Public Safety hired Chief Abe Haroon as their new director this October.
Since Oct. 17, Haroon has been in charge of supervising the department, reviewing procedures and policies, reviewing emergency plans and creating plans for football games. The director and chief is also responsible for making sure that stationary supplies are in stock.
Haroon was previously a chief of police in Johnstown, Ohio. Prior to this, Haroon worked several jobs, including deputy sheriff, school resource officer, parole officer, special weapons and tactics team member, drug recognition expert and patrol sergeant. He expressed the desire to "get into a different avenue." He was immediately impressed by Ferris DPS.
"When I interviewed for this one, I found that I really liked [the] community, I really like the staff and I really like the organization itself."
DPS aims to help protect members of the Ferris community by creating an environment that everyone feels safe in. DPS doesn't only have positions for licensed officers, they also hire student workers. Students can be service officers, cadets or dispatchers. Criminal justice sophomore Nicole Janisz was recently promoted to cadet. Her duties include scheduling and training service officers about the parking system. Janisz described what it's been like since Haroon took over.
"Who we had filling in the position for the time being was doing a fantastic job, but we were a little bit short handed," Janisz said. "So with [Haroon] coming in, he has such a positive energy, and he loves talking to people. From what I've experienced, he's just a really great guy. It's helping things go a lot smoother, and he's honestly doing a great job."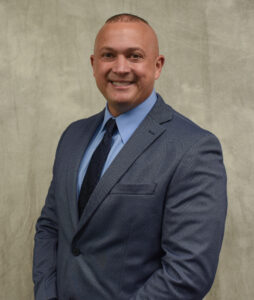 Brittany Taylor, a dispatch officer at DPS and Ferris alumnus, explained what it's been like since Haroon has taken over.
"We have someone in that seat to give us guidance when we need it," Taylor said. "It's been nice. There hasn't been changes. I foresee that there probably will be once he gets more comfortable, but there's a lot to get acclimated to."
The previous captain of DPS, Gary Green, recently left on good terms, according to Taylor, to take on the position of undersheriff of Mecosta County. This leaves Haroon with a position to fill. DPS will post a national job posting for the position. It will be open for about three weeks. Haroon plans to make a selection by mid-December and extend an offer by early January.
Human resources freshman Vivian Jahncke described how she views safety on campus. Jahncke explained that she hasn't heard of any robberies or crimes but feels like there isn't a lot of security aside from the blue help boxes.
"I think most of the safety on campus relies more on an honor system of don't do bad things," Jahncke said. "I haven't noticed too many security cameras."
Haroon explained that the main change that he has planned to help keep the Ferris community safe is increasing the use of body cameras. Once approved, Haroon will be able to start training the officers, and he hopes to have them in use in January. 
Haroon also explained that he wants to get involved on campus, and he plans to attend meetings, including student government meetings. He hopes that groups will reach out to him if they feel he should attend their respective meetings.
Haroon's goal is to not be a stranger at Ferris. He hopes to be a part of the community by socializing with different groups on campus. Haroon also shared that he is open to any suggestions, comments, concerns or compliments, and he is excited to be a part of the Ferris community.