You've seen the cheer and dance team on campus, now it's time to look out for the Golden Majorettes, a new dance club at Ferris.
The Golden Majorettes' dance club was established in the spring of 2022 by marketing sophomore Unique Robinson. Robinson created this Registered Student Organization to give women a dance outlet and a place to be comfortable as themselves.
"I wanted to give women the opportunity to be involved in something [centered around Black women] that isn't Greek life because Greek life isn't for everybody," Robinson said.
The word got out about the new RSO at Bulldog Bonanza. Social work sophomore Paris Horton attended the Majorettes' informational table and invited her friends to tag along.
Although the majorette team has been on campus for less than a year, it spoke to some of its members more than other RSOs on campus.
"Cheer didn't have enough soul to me, and I rarely saw the dance team," Horton said. "So when I heard about the majorette team, I immediately thought of [the Dancing Dolls] and was interested." 
On the other hand, nursing sophomore Arielle Teamer has been cheering since she was three but decided to take a different route as a college student.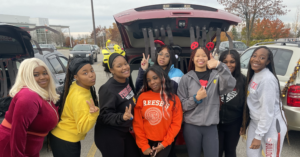 "I stopped cheering in the sixth grade to join the majorette team [because] my school had a band, so I continued to do that," Teamer said. "When I got to college, I wanted to continue with the majorette team instead of cheer, so that's what I did."
Majorette dance teams are not the same as regular dance teams. The difference is that the majorette style of dance originated at historically Black colleges. This form of dance mixes all dance types together into one.
The Majorettes' favorite thing about being on the team is being able to display their creativity through their original dance routines. While most dance teams have coaches that determine their dance moves and counts, majorette dancers have a say in a majority of their routines. The dancers have many opportunities to create their own dances, and their drill masters assist them with completing the dance if needed.
Joining the team has helped Horton learn more about herself.
"I didn't know I could lead as well as I am… until I came to the [Golden Majorettes]," Horton said.
Business sophomore Victoria Warren always looks forward to team practices.
"I stay in my room, but my favorite part of the week is majorette practice," Warren said. "It just brings me out of my comfort zone."
The girls have gotten to know each other a lot since the start of the RSO. Warren feels like the girls have known each other for a while, even though it's only been a few weeks.
Before getting active on campus with the Golden Majorettes, Teamer was shy and reserved. Joining this dance club has introduced her to new people and made her more confident with dancing in front of people.
Teamer explains that she feels a connection with the girls on the team and that she "instantly clicked with them." Practice days are her favorite because she gets to see her teammates.
She describes their relationship as a "sister-like bond" and believes that the other girls on the team may feel the same way.
"I really am an introvert; that's why I don't have a lot of friends… I won't talk to people first," Teamer said. "But the majorette team has brought a lot out in me and with these girls on the team."
Dance experience is not required for potential members. Reaching out to the team and wanting to learn is all that's needed.
If you would like to join the Golden Majorettes, you can visit Bulldog Connect, search for their RSO and click on the "contact" tab to sign up for more information.