Halloween is a time for dressing up, laughter, trick-or-treating and getting a sugar buzz. This looked just a little bit different for Ferris students, who enjoyed a night of skating.
On Monday, Oct. 31, Ferris Housing hosted an event in celebration of Halloween at the Big Rapids Roller Rink, fittingly called Spooky Skate. This event included dressing up in fun costumes, winning cool prizes and enjoying free popcorn and drinks.
Students were able to skate for free while listening to Halloween themed music. This event was the third skating event hosted by Ferris Housing this year.
Pre-dental hygiene freshman Elizabeth DeVisser attended Spooky Skate and was excited because it was her first time at the roller rink.
"When I was walking into the building, I could tell that the atmosphere was lively and festive," DeVisser said.
Director of Housing and Residence Life Lisa Ortiz affirms that they made this event happen so that students could have a fun opportunity to celebrate the Halloween season.
"The Big Rapids Roller Rink has been a great partner for Housing and Residence Life to provide evening fun and encourage people to come out to skate," Ortiz said.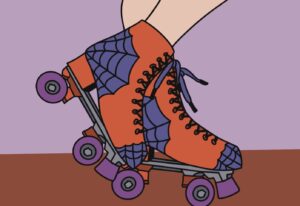 Students were dressed up in an eclectic assortment of costumes that livened up the night and were able to enjoy a night out with friends that was interactive and safe.
Hospitality management freshman Maeve Coretti took inspiration from the 2010 film "Despicable Me" and dressed up as a minion. She felt that going to this event brought her back to her childhood and gave her a fun opportunity to hang out and bond with her friends.
"There was a bigger turnout than I was expecting," Coretti said. "After midterms, it was nice to have something exciting to do."
Ortiz also enjoyed the event because she was able to see students having a good time at an event she helped make possible.
"Personally, I found joy in seeing everyone having fun on skates and interacting with each other. There was laughter, fun and spooky costumes that added to the atmosphere," Ortiz said.
According to DeVisser, Spooky Skate, as well as other events Ferris puts on at the roller rink, is a great way to expose students to the small businesses in town. She hopes that hosting events like this for students will encourage their support in the future.
"I look forward to going skating at the Big Rapids roller rink with my friends in the future," DeVisser said.
There is much more to look forward to in the future from Ferris Housing. Look at the Ferris event calendar to stay tuned for more skating fun.