I am a freshman in the journalism and technical communication program. I graduated from a class of 12, so coming to Ferris was a huge step for me. 
I originally planned on majoring in interior design, as I have had a passion for decorating, however, my artistic skills aren't the best. I then decided that journalism made sense because I have always loved writing and talking to people. 
I was excited to join the Torch as a freshman, especially since I didn't have any journalism experience in high school. The staff I work with now have been helpful in giving me tips and comments that help me improve on my work. 
When I first began the position, I was a little bit nervous, but everyone was so helpful and allowed me to shadow a few times until I learned the basics and felt comfortable enough to start reporting by myself. I am a reporter in the news section, which has allowed me to learn about unique programs, people and events at Ferris.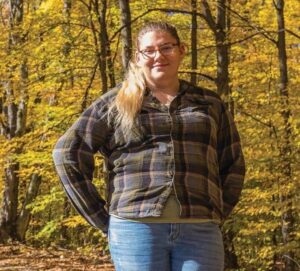 Outside of working for the Torch, I enjoy hanging out with my friends and going to campus events. I also enjoy going back home for the weekend, hanging out with my family and playing catch with my dog. If I'm not doing that, then you'll catch me watching the latest crime show or a sitcom that ended at least two years ago.
My goal for after Ferris is to move back home and start working for the local newspaper. My hope is to eventually gain enough experience to become a travel journalist and report on unique events outside of my hometown.