At some point in life, everyone is asked a simple question: who is your favorite superhero? Most would say the classics like Superman, Wonder Woman or Captain America, but I was never able to answer that question because I never saw a character that resonated with me.
That changed when I was introduced to the "X-Men" movie and saw actor Halle Berry as a superhero named Storm. 
When I saw Storm beating up bad guys with natural elements, she was automatically my favorite superhero and a role model in a way. She was a superhero who had crazy hair like I did, the same complexion as me and she was someone I could relate to.
That same feeling occurred when I saw actor Chadwick Bosemen as the Black Panther. The Black Panther is a superhero, and Bosemen's portrayal has done so much for African Americans. He inspired people to become anything they wanted to, even before he put on the Black Panther suit.
He graduated from Howard University and gave a commencement speech that inspired many, and his words stuck with so many students during that speech.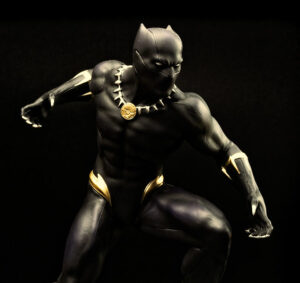 Boseman was a leader, an inspiration, an icon and so much more. When he passed away on Aug. 28, 2020 from colon cancer, the world reacted with shock and grief. Just two days before his death, I was watching "Black Panther" in my room, wondering when the second movie was coming out.
When I found out about Boseman's death, I immediately went to Google to figure out if this was actually possible. According to NBC News, Boseman kept his illness a secret so people wouldn't worry about him. He only told a small group of people so he could continue to train and do the things he loved.
Boseman acted in history-making movies like "42," a movie about the life of Jackie Robinson, "Marshall," a movie about Thurgood Marshall and "Get On Up," a biographical musical about the life of James Brown. In all of these movies he presented the character perfectly, just as he did with the Black Panther.
Because no one can play the Black Panther like Boseman did, many people, myself included, believe that the role should not be recast.
Criminal justice student Naomi Kumwenda has read the Marvel comics and seen the "Black Panther" movie, and she believes that they should not recast the Black Panther role, but they should still try to continue his journey.
"You can't think of "Black Panther" without thinking of the way Chadwick Boseman played it," Kumwenda said. "So I think it shouldn't be a real casting but like someone who's kind of taken on the mantle."
Others say that Marvel should stick with the comics, which means that T'Challa becomes unstable during a battle due to Iron Fist's aneurysm and attacks the Jabari tribe. When he comes back and realizes what he's done, he leaves Wakanda and goes into hiding.
I don't believe they should go down this route because the Jabari tried reconciling with the Wakandans at the end of "Black Panther." If the Black Panther has to die somehow in the movie, I believe they could incorporate the "blip" period during "Avengers: Infinity War" and say that he vanished.
Another thing that would be a better tribute is if they had Shuri, T'Challa's little sister, take over the throne in an honorable way, considering that is similar to how the comics went. Either of these would be more natural than killing him off with no explanation or recasting the role.
Boseman played his roles to the fullest every time, and there isn't anyone that can portray his characters like he did. This is why I think they should try to find a way to contribute to his character, not just cut him out completely.