The Bulldogs claimed the GLIAC regular season championship for the eighth time in the past nine years.
Ferris recorded a pair of wins this weekend as they faced off against two GLIAC opponents, Saginaw Valley and Davenport, improving their record to 21-9 overall and 16-2 in GLIAC play.
First, the Bulldogs took on Saginaw Valley on Friday, where they came out with a 3-1 victory that clinched the regular season GLIAC championship.
"We love the GLIAC," head coach Tia Brandel-Wilhelm said. "There's so many really good teams and so many great coaches that have been here for years and years, and we just feel honored to be a part of the GLIAC and to be at the top part of it, and we're super excited to be able to have the championship."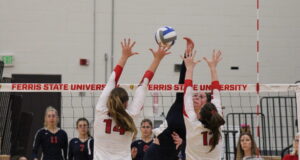 Against Saginaw Valley, the Bulldogs were led in kills by Syann Fairfield with 20. Claire Nowicki had 11, and Olivia Henneman-Dallape had nine.
Kaylee Maat had 45 out of the 53 assists on the team and finished the season with 1213. The sophomore's 1896 career assists places her in 12th place all time for Ferris (Kim McDowell has the record with 5317).
 Leah Bylut had 25 digs, Nowicki had 21 digs and Emma Bleecher finished with 14 digs.
On Saturday, the Bulldogs defeated Davenport 3-1 in a hard-fought victory.
In the fourth set, the Bulldogs were down 10-3 as they surged and fought back to win the set.
"Yeah, we talked in the huddle," Maat said. "We're like, don't even pay attention to the score. We just got ourselves out of it and kept up with it."
The Bulldogs showed the determination that won them the regular season GLIAC championship.
Chelsie Freeman led with 15 kills, Henneman-Dallape had 14 and Fairfield had ten. Maat led the Bulldogs in assists with 48, and she also led the team in digs with 23. Bylut had 17 digs, Alina Anderson had 16 and both Nowicki and Bleecher had 14. Nowicki also had four service aces in the matchup.
After a successful weekend for the Bulldogs to end the regular season, they will shift their focus to the GLIAC tournament as they enter as the top seed.
"These past few games have helped us," Maat said. "We're going to host now, so we get home-court advantage. It'll be awesome coming into it."
Regular season stats (minimum eight matches played): 
Kills leaders: Olivia HennemanDallape (336), Claire Nowicki (314)
Assists leaders: Kaylee Maat (1213), Leah Bylut (89)
Blocks leaders: Syann Fairfield (16), Olivia Henneman-Dallape (12)
Block assists leaders: Syann Fairfield (76), Chelsie Freeman (64)
Total points leaders: Syann Fairfield (384.0), Claire Nowicki (379.0)
Hit % leaders: Syann Fairfield (.290), Claire Nowicki (.272)
Digs leaders: Leah Bylut (483), Claire Nowicki (320)
Service aces leaders: Kaylee Maat (69), Alina Anderson (34)
The Bulldogs will face Lake Superior State University on Wednesday, Nov. 9 at 7 p.m. in the Ewigleben Sports Complex for the GLIAC quarterfinals.