Despite once being shamed and shaken by his Catholic school peers for lying about the paranormal, Chris Fleming came to Ferris last week as a professional ghost hunter.
On Thursday, Nov. 9, Fleming gave a presentation exploring paranormal sightings and the equipment used in ghost hunts. Following the presentation, thirteen guests and their plus ones embarked on a ghost hunt.
Attending the show were accounting finance junior Tyler Brandel, marketing junior Colton Cook and pre-veterinary medicine junior Alexis Saagman. All three were skeptical of Fleming and came out to watch him for the entertainment. While they believed that some of what Fleming had said could be true, they weren't convinced by the end of the presentation.
Upon arrival at Three Girls Bakery, Fleming noticed a woman in the upstairs window. He then confirmed with the bakery staff that no one was upstairs and what he saw on his way in was not a person. Fleming also indicated that he smelled tobacco after walking into the bakery, though no one was smoking or chewing tobacco. Fleming then began an electronic voice phenomenon session in the bakery, where he asked questions and made out a few words before the actual hunt began.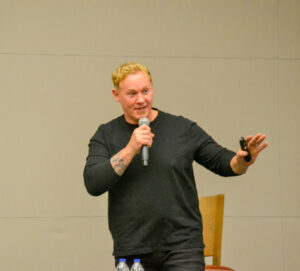 Once upstairs, participants were split into groups to investigate. Fleming stood at the end of the hall and used an app called Necrophonic to contact any spirits in the building. He then gave the participants a chance to ask the spirits questions. At the end, with each group Fleming communicated with the spirits to try to convince them to cross over.
Construction management junior Jack Moloney was exploring the lower level of the bakery with two other participants while waiting for their turn to go upstairs. They were given an electromagnetic field reader by Fleming and made their way towards the back of the room, away from the appliances.
"We put [the EMF reader] up to a painting, and then we asked it if it was mad at us. 'Spirit, are you mad at us?' Then I thought my nose started running. My nose, it was bleeding," Moloney said.
When Fleming "asked the spirits" why Moloney's nose started bleeding, he was told it was "to teach them something."
After Fleming had talked to the spirits with the final group of participants, he recommended that anyone who was not feeling well after the hunt say a prayer. That way, he explained, the entities knew they were not welcome to stay.
Fleming has been experiencing the paranormal since he was three years old. He grew up in a haunted house, and many people did not believe his ghost stories. 
Fleming stated throughout the night that "believing is one thing, knowing is another." He explained that he doesn't just believe in the supernatural, he knows that the supernatural exists, and has been experiencing it his whole life. He has been visiting colleges since 2006 and hopes that those who have supernatural experiences who attend his events realize that they are not alone.