The Bulldogs recorded their best offensive output of the season during a 5-1 exhibition win against the Mercyhurst Lakers.
The exhibition game, which had an irregular 1 p.m. start, had five different Bulldogs score through three periods. Four of these goals came in the first period, which is also a season high.
Within the first five minutes of the game, senior forward Dallas Tulik, junior forward Stepan Pokorny and junior forward Antonio Venuto all scored. Junior defenseman Ben Schultheis topped off scoring eight minutes after the previous goal.
Sophomore forward Bradley Marek, who scored the fifth and final goal for the Bulldogs in the third, gave his thoughts on the game.
"We played hard, and we played our game," Marek said. "It was good to be able to build on [our game] heading into our next weekend against Bowling Green. At the same time, we know we have more work to keep pushing on."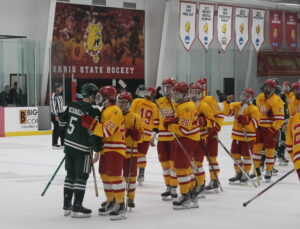 The last time the Bulldogs scored four or more goals in a single period was a five goal period against Bowling Green on Dec. 10, 2021.
Coming into the game, Ferris had scored just one 5-on-5 goal in their previous four games. With all five goals against Mercyhurst coming during 5-on-5 play, associate head coach Drew Famulak was pleased.
"It's been an emphasis this week in practice," Famulak said. "We've been really harping on that and trying to get to the net."
Alongside the offensive eruption, both Mercyhurst and the Bulldogs combined for a litany of penalties.
In total, the two teams combined for 20 penalties and 51 penalty minutes. 33 of the minutes belonged to Ferris.
Among the penalties was a game misconduct and ejection of freshman forward Tyler Schleppe. Schleppe was called for contact to the head after a big hit on former Bulldog Brendon Michaelian that left Michaelian motionless on the ice for nearly three minutes. He needed to be helped off the ice.
The CCHA reviewed the play where Schleppe hit Michaelian and determined that Schleppe will not be suspended.
Michaelian seemed to be in good spirits after the game as he greeted his former teammates on the ice.
Logan Stein, who recorded two saves and one goal allowed, gave his thoughts on Michaelian's return.
"It's a little weird to play against a former teammate," Stein said. "[Michaelian] was a great player and teammate for us here, and we were sad to see him go. We obviously wish him the best at Mercyhurst."
All three goaltenders received playing time. The trio of Stein, sophomore Noah Giesbrecht and freshman Joey Henson stopped 26 of 27 shots.
The Bulldogs will remain at home for their next matchup against Bowling Green on Nov. 18 and 19. Puckdrop for Friday's game is 7:07 p.m.