Many seniors are preparing to graduate, including Sheryl Karrip, who is ready to finish her six-year stint at Ferris and walk across the stage.
Karrip will be graduating with a degree in business administration and a minor in human resources. She is originally from Grand Rapids and chose to attend Ferris because of its proximity to her home. Keeping the smaller community environment was also a deciding factor of hers because it's what she has been used to her whole life. She appreciated the interpersonal connections
 she could make on a smaller campus and how easy it would be to communicate with professors.
"I figured this would be a great opportunity for me because [Ferris is] so small," Karrip said.
Along with her academics, she is involved all across campus. She can be found working in the David L. Eisler Center as an information assistant, at Zeta Tau Alpha as a sorority woman, on the field with her intramural softball team and working with the Student Leadership Activities Advisory Council, a Registered Student  Organization that helps start-up other RSOs. Most notably, she is the current Panhellenic Council president, and she enjoys her job overseeing all the sororities on campus.
"I am very involved with sorority life, and, to be honest, I really think that's my biggest accomplishment because I have done really great things with it," Karrip said.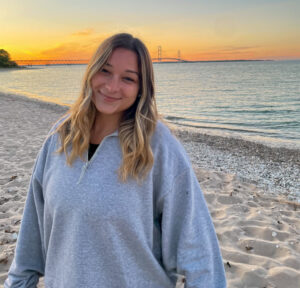 Not only was she Sorority Woman of the Year in 2021, she also planned an event in that same year that won "Best Programming" at the Torchbearer Awards. This event was called "Best Greek on Campus." This event was a talent show that allowed members of Ferris' Greek life to participate in and spread information about their philanthropy, which for Zeta Tau Alpha is breast cancer education and awareness.
Though she has accomplished a lot during her time at Ferris, she has also experienced some struggles. She describes herself as a very independent person, which can make asking for help and seeking on-campus resources difficult for her. 
Associate Dean of Student Life and Karrip's boss Nicholas Campau believes that he and her coworkers are very fortunate to have Karrip on their team.
With many great qualities, her attention to detail is what Campau has noticed and appreciates deeply. Her current position as an information assistant was created uniquely for her.
"[Karrip] is someone that we can kind of give vague ideas of what we want done, and she'll just make it happen in a way you didn't know… you wanted it, but it [gets] done the right way," Campau said.
According to Campau, having Karrip at work is always reassuring. He describes her as someone that thinks ahead to what a person didn't ask for and provides them with what they need to know. 
Compassionate, fiercely loyal and passionate are three words he uses to describe Karrip's "incredible personality." 
As she's training the next person to take her role as Panhellenic Council president, Campau believes that "it's not just a side gig for her" and that her commitments to her extracurriculars, connections and sorority are proof of that.
"[Karrip] has given a lot to Ferris… While she is one that is here to help others grow, she's a teacher [and] she's a learner, and one of the things that I really appreciate is she finishes and closes strong," Campau said. 
Human resource management senior Zoie Willson portrays her "best friend" as a role model.
"I think no matter what she ends up doing, she's gonna lead," Wilson said. "It's not going to take her very long to get on top. I think everybody that meets her sees this power in her, and I think that in a couple of years, she's going to be top of the game, whatever she's doing." 
Willson met Karrip about four years ago, but says it took them a while to become close friends because of their "strong personalities." Finally, they found their balance when they first had to work together on the Panhellenic Council. Willson believes that after they gained respect for each other, their friendship blossomed.
"I always say I think [Karrip] and I could take over the world," Wilson said. "We are just a power duo…, we motivate each other. I think we really balance each other out."
Once Karrip graduates, she will be heading up north to Petosky, Mich. Last summer she interned at Boyne Highlands and has been offered a job to come back and be an event manager for their events team.
Her advice to other students is to not "be afraid to get involved." She advises others to get out there because she believes it's one of the best things you can do at Ferris. 
If Karrip hadn't taken her own advice, she believes she wouldn't have made connections that were vital to her current and future successes.
Giulianna Denicolo contributed to the reporting and writing of this story.