By the fall of 2023, MyFSU will have a new look and feel to better help Bulldogs navigate campus life.
Since January, the IT Services Department has been working with software service vendors to bring a new design and page that will become the one-stop shop for faculty, staff and students.
MyFSU is one of the most commonly used sites by the Ferris community, as it links users to Canvas, Bulldog Connect, housing contracts, class registration and more. Eric Hazen, the Director of Digital Marketing in the University Advancement and Marketing Office, says it's too hard to navigate the website.
"It's not as easy to be a Bulldog as it should be right now," Hazen said. "You shouldn't have to dig through a ton of stuff that's not relevant to you. We have the technology and the ability to give you surface content that is relevant just to you."
Business administration junior Jordan Wilson says she finds MyFSU extremely confusing and outdated.
"How everything is laid out like, for housing, you have to open a whole different page," Wilson said. "MyHousing isn't connected to your meal plan and where you have to go to get bills or pay for your bills. It's not just all in one area, and [that] makes it way harder."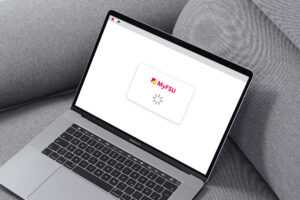 Wilson also described how she found the process of trying to get a new ID confusing, stating the page and information she was looking for was not even on MyFSU.
Hazen and his team are working alongside Associate Vice President and Chief Information Officer Charlie Weaver and his team to bring a fresh MyFSU website that will "integrate content."
"So, somebody doesn't need to go and say, 'Alright, Bulldog Connect has this event and this event, we're going to manually type it into the system,'" Hazen said. "[Instead,] it's going to pull that data in from Bulldog Connect, it's going to pull that data in from the campus calendar, from Canvas, from wherever it exists natively, and it's going to display it in an easier-to-digest place all in one spot."
Hazen and Weaver say they originally reached out to five vendors who specialize in modern webpage design and have narrowed down their choices to two designs. They refrained from saying which companies they were working with for privacy reasons and to not give the impression that a choice had been made with other companies involved before any usability tests could be conducted.
This project is partially in-house and partially external. Weaver says the frame, or the base design, of the page will be created by a software service vendor. The information, colors, security and more will be added by his team.
Hazen and Weaver say the reason why they decided to have a company design a website for them instead of having a department within Ferris take on the project was time. They said it would take a year to have a new MyFSU website created and ready to be released, while it takes up to 16 weeks with an outside company.
"It's a tool and resource that we can purchase that is going to be far easier for us to maintain, develop and contribute to than if we try to do something in-house," Weaver said. "The product itself comes from an outside company, but the content is what it looks like, the stuff that's in it, that's gonna come from us."
Since a vendor has not been selected just yet, it is not certain how much this project will cost the university. However, Weaver says these systems typically range between $15,000 and $150,000. While the price may vary depending on the style of system their team decides on, they have full confidence the new look of the MyFSU website will be used over the course of ten years.
These changes are expected to be fully implemented in the fall of 2023, ahead of the new academic school year. Hazen and Weaver say they are looking to conduct usability tests in the next few months to receive input from students before releasing it completely.