I remember the day my family subscribed to the Netflix DVD subscription. We were able to build a queue together and meticulously cultivate a DVD order that kept the whole family happy, all for $7.99 a month. I also remember the day Netflix started streaming and put hundreds of thousands of movies and TV shows at our fingertips.
Cut to today and streaming is an absolute nightmare. Gone are the days when if something was streaming, it was likely streaming on Netflix, maybe Hulu, but what got us here?
Streaming services are a byproduct of a much bigger phenomenon, industry disruption. Americans were tired of high cable prices, contractual obligations and limited packages that didn't allow for flexibility. Then, media giants like Netflix, Hulu and Amazon stepped in to offer an alternative.
This turn to streaming was accelerated by a few things. By 2008, when a pronounced cord-cutting movement was beginning, many American households had moderately fast internet and internet-connected devices that hooked up to their TVs. For just $7.99 a month, Netflix and Hulu would serve you a great deal of content, both new and old.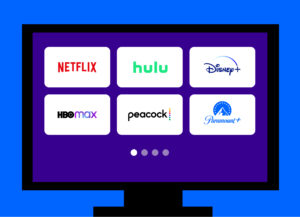 But just like other industry disruptions, like rideshare to taxis and residential rentals to hotels, that ease of access quickly became unsustainable for a myriad of reasons. First and foremost, competition heated up at lightning speed. Internet-first competition arose, but cable networks like HBO, NBC, CBS and a variety of others took notice of the immense success of Netflix and got on the streaming bandwagon as quickly as developers could put their apps together.
This competition didn't just face outwards to consumers, either. Now that there were so many contenders in the space, services began fighting over streaming rights to a variety of shows and movies, so programs would frequently shift around. Especially when networks that originally created a show matured to have their own streaming service and yanked their shows from all other platforms. 
This contractual competition blended with internet-first services, and prices for consumers soared. Until last week, the cheapest Netflix plan was $9.99, allowing streaming at 720p on only one device at a time. This is $3 more than when it launched with strict limits that previously didn't exist. Their top-of-the-line plan that allows four devices to stream at once in 4K is a whopping $19.99 a month, but they're not the only offender.
Furthermore, there's a chance that Netflix's content could become ad supported. While services like Hulu had "with ads" tiers since their inceptions, Netflix recently announced it will now offer an ad-supported tier to their platform, even though they promised this would never happen in January 2020 during a fourth-quarter earnings call.
"We want to be the safe respite where you can explore, get stimulated, have fun, enjoy, relax — and have none of the controversy around exploiting users with advertising," former Netflix CEO Reed Hastings said, according to BGR.
All of this to say, we've run ourselves in a circle. Content is widely spread around streaming services that are no longer able to offer their cheap, enticing prices. I'll use myself as an example. My five favorite TV shows require me to have five different streaming services to keep up with them. If I were paying the sticker price for what I deem the tolerable tiers for each of these services, I'd need to spend $54.50 plus tax. When I say tolerable, I just mean HD quality, I'll deal with ads.
The problem is this is the cost of comparable cable packages that offer on-demand content that is streamable. Consumers are in a lose-lose situation where their content is hard to locate and costly when they enjoy content from more than one studio. There isn't really a solution here, either. Pay for streaming and try to limit yourself to just a select few or pony up for a cable subscription.
I've resigned myself to a hodgepodge of both my limited Charter cable subscription and various streaming services I've cultivated through student discounts and family sharing, all while hoping a better solution will find its way to us soon.