The Bulldogs have played six weekend series to start their season. They have split all six of them.
Most recently, Bowling Green visited Ewigleben Ice Arena on Nov. 18 and 19 and took Friday's game 6-0 before Ferris responded with a 4-1 win on Saturday.
One night after being dominated, the Bulldogs (5-6-2, 2-3-1 CCHA) responded with a convincing win of their own against the CCHA-leading Falcons (6-8-0, 5-5-0 in CCHA).
Despite leading Friday's game in the shots on goal category, the Bulldogs came out of the first period down 2-0. The game continually got worse for the Bulldogs as, in a nine minute span, Bowling Green tacked on four more goals.
Following the sixth goal at 10:10 in the second period, junior goaltender Logan Stein was pulled for sophomore Noah Giesbrecht. Giesbrecht did not concede a goal, but the Bulldogs were unable to battle back despite putting up a season-high 39 shots. Bowling Green goaltender Christian Stoever had his best performance of the season, going 39-39 on saves.
Head coach Bob Daniels felt some things needed to change heading into the next night against Bowling Green.
"The easy thing to say is that we need to score and they have to score less," Daniels said. "That would be the easy thing to say. No matter what happens tomorrow, it'd be nice to get the first goal. But, no matter what happens, we can't have a second period like we had tonight."
With both goaltenders essentially splitting the game, it was unclear to Daniels as to who would start the next night. Although not disappointed with Stein's performance, Daniels said that it was "past that point" of having a set Friday/Saturday schedule for Stein and Giesbrecht to play. Whoever gives the best chance to win will get the start on the given day.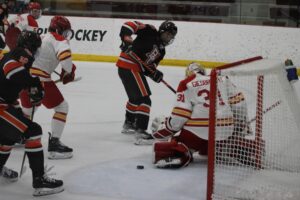 The answer to the question of starting goalie was answered the next night when Giesbrecht received the nod. The Bulldogs brought a much better effort to Saturday's tilt.
Like Daniels wanted, the Bulldogs opened the scoring in the first period, courtesy of sophomore forward Nick Nardecchia's first goal of the season. Continuation of Bulldog scoring came in the second period, as freshman forward Caiden Gault scored his first collegiate goal. The uninterrupted Bulldog onslaught ended with a goal from senior defenseman Blake Evennou for his first goal of the season.
With a 3-0 Bulldog lead, a Giesbrecht shutout looked almost certain. Unfortunately, Bowling Green netted an extra-attacker goal with just over two minutes left. In order to slam the door for any sort of comeback, junior forward Antonio Venuto scored an empty net goal to secure the 4-1 victory.
Drew Cooper collected two assists on the night, while Nardecchia, Stepan Pokorny and Zach Faremouth each added one.
"We emphasized not messing around with the puck as much," Cooper said. "We got it up to our forwards and let them play with it. We were able to play with speed and play the whole 200 feet of the ice. That allowed us to play more in their zone tonight."
Daniels was happy to see his team rebound after a tough loss.
"Well I am really proud of the guys for bouncing back after the really difficult loss last night, they're all difficult," Daniels said. "If you lose one 3-2 late in the game, that's difficult. But last night was difficult for a different reason. Today was a new day, and I give the guys credit."
Daniels gave credit to his players for having short-term memory regarding the previous night's "shellacking."
Giesbrecht seemingly picked up where he left off from Friday's game, saving 32 of 33 shots in Saturday's game. He mentioned that playing in Friday's game helped prepare him for Saturday's.
"I think [it was] just seeing shots and just getting the feel for the puck," Giesbrecht said. "They're shooting a lot, so I got into a rhythm with it last night and brought it over to tonight, and it felt good."
Giesbrecht classified the one goal scored by Bowling Green as "lucky" and only felt he needed to battle through the final three minutes to get the win.
The Bulldogs will be on the road next week when they face the Minnesota State Mavericks. They won't return home until Dec. 9, when they play the Northern Michigan Wildcats.