Imagine being 14-years-old again, starting high school and thinking about what comes after. Emily Larson has gone a few steps further and started college. 
Larson juggles high school, college, work, athletics, extracurricular activities and her family at 14-years-old. Larson is working towards a liberal arts degree in integrative studies through the early middle college program at Ferris and Lifetech. She has done a mixture of online and public school, starting with MVCA, then moving on to Lifetech, two online education services.
In an undergraduates age distribution study done by the Hamilton Project, an economic policy initiative, about 5% of students under 18 are enrolled in a four-year public or private institution.
Larson is the oldest of five siblings. She has twin brothers and two sisters, and family means everything to her. Larson is an avid reader and a fan of the dystopian genre. She often travels long distances to go to various libraries, and she participates in many book clubs, including online clubs with Outschool, the virtual marketplace for classes.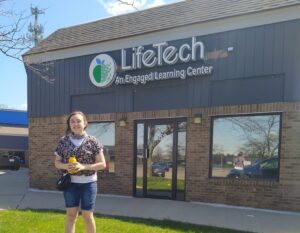 She has been able to share some of her hobbies with her little sister and enjoys doing that in her free time. Larson reads with her sister when she can, hoping the bookworm gene rubs off.
Outside of academics, Larson recently began to tap dance, and she has played travel basketball. She babysits on the side for extra income as well.
With so much accomplished at a young age, Larson explains that she is hopeful for her future. With a full plate of responsibilities, Larson relies on blocking out time to attend to her duties while also making sure to balance her mental well-being, work, academics and family obligations.
"My ambitions make me strive for more experience, which pushes me to where I am today," Larson said. "Anyone can reach the stars if you work hard enough — sometimes you just have to work harder."
Larson has left a trail of high grades and achievements throughout her school years and was even able to skip a grade. Growing up, some of her teachers referred to her as a "child prodigy."
"It's a glorifying word, 'prodigy.' It's just something you have to live up to," Larson said.
Sandra Larson, Emily Larson's mom, beams with joy when bragging about her eldest.
"She is an excellent role model, a shining star, a golden child, and I can only hope my other kiddos become like her," Sandra Larson said.
Sandra Larson explained that Emily was not spoiled growing up and that they come from a low income family. There was once a time when they lived in a home where when it rained outside, it would also rain inside.
"Sometimes when things were falling apart, she would often be the rock of the family," Sandra Larson said.