The American Arab Pharmacy Association is a newer organization at Ferris, but they have already made a big difference in the Big Rapids community.
Dr. Adnan Dakkuri, a professor of pharmaceutical sciences and the association's founding advisor, helped create the association in 2011 and was the recipient of the 2016 Diversity Enhancement Award.
"[The AAPA] was founded to give Arabs a voice in pharmacy and have inclusion for Arab Americans who are studying in the pharmacy programs," AAPA President and P2 pharmacy student Zeina Elroumi said.
Elroumi makes it clear that the association is full of diversity and is not only for Arab students. This has been a great way for her to make friends and connect with others. She has also been able to "branch out and network" with Wayne State's e-board, which is where the AAPA was originally founded.
"I was able to connect with others, not just with other Arabs, but with other people in general, and it made me more confident," Elroumi said.
The AAPA also has a group of alumni that have been very supportive of them. They have donated a lot in scholarships to the College of Pharmacy.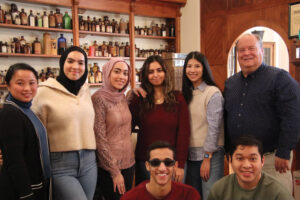 Along with their monthly general meetings, where they discuss what's coming up, many members are friends outside the association. They keep in touch through their group chat, they organize study sessions and some of the members have even become roommates.
"The reason why I became president of AAPA was because our current treasurer, Ali Yehya, motivated me to take on the role during elections back in April," Elroumi said. "The rest of our current e-board members, Ragad Daoud, Nour Mehdi, Yuli Zheng and Phu Ho, all do an amazing job as well. We work together as a team to get things done, and I appreciate them and would not be the leader I am if I did not have them backing me up and supporting me." 
The AAPA works to include students outside of the organization. They have put on many events in the past, including an annual volleyball game, a basketball game and a clothing sale to recruit more members.
They try to get outside opinions on what people would like to see from them by using a form that they put out at the beginning of the semester. They took this feedback and held a cider and donuts event last month, where students interacted with AAPA members and had some fun.
The AAPA has given back to the Big Rapids community in a big way. They are currently working with WISE, a women's shelter in town, to collect donations of items, such as feminine hygiene products and winter clothes. According to Elroumi, this has been her biggest accomplishment since being elected as the AAPA president.
"We chose [WISE] to endorse because giving back to the community is essential, and spreading awareness is vital, especially for those who are afraid to speak out against their abusers," Elroumi said.
WISE's goals resonate with the Oath of a Pharmacist, which states that they "promise to devote" themselves to a "lifetime of service to others through the profession of pharmacy."
Along with this, they go to middle schools in the area to give presentations on antibiotic resistance that teach the students about why it's important not to take antibiotics when you don't need them.
An event that the entire organization and its advisors look forward to is the annual AAPA banquet. This event is held in June in Dearborn, and it brings together the members, staff and alumni from the University of Michigan, Wayne State University and Ferris. At this banquet, students receive scholarships for their academic success and are able to network.
Under new advisement from Dr. Qian Ding, the AAPA has only grown. Ding has been very impressed with how much the members have been able to accomplish and how well Elroumi has taken on the leadership role as the president of the association.
The organization tries to promote its program and the Arab culture. On Nov. 28, the AAPA is having a middle eastern bake sale where they will be selling pastries from 11 a.m. to 5 p.m. in the College of Pharmacy's lobby.
The AAPA encourages everyone to stop by and enjoy these authentic treats.