When looking at Ferris' average annual tuition of about $24,000, it is incredibly daunting and stressful. For most students, that's not an easy bill to fork over. Personally, I was terrified. I knew Ferris was the place for me and had always known I wanted to go to college, but once I saw the price tag, I began to question if going to college was the smartest decision. 
I grew up with a single mom, so scholarships were my only option. Scholarships are only getting easier to access online, which only makes them even more competitive. I applied to over fifty scholarships across different platforms, and I only received five of them. While this was helpful, it still wasn't enough.
Plus, loans are scary. Rising interest and inflation rates only add to the fear of being in debt, which could be detrimental to one's future financial stability. Originally, when I decided on going to Ferris, I assumed I was going to have to take out a $20,000 loan. That truly made me believe that I shouldn't be going to college because that was only going to cover one year. I didn't want to be in debt for the rest of my life. Although I was in the top of my high school class, I still believed that I shouldn't go to college because of the price.
Luckily, I only needed to take out a fourth of that loan, but for college students with a minimum wage paying job, or those who aren't as fortunate and have little to no family help, that's still not easy.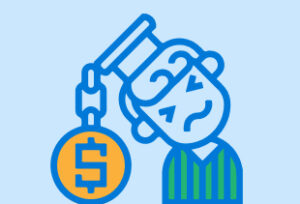 When looking at your bill, you must also realize that you won't just be charged the cost of tuition. For my program, I had to buy almost $300 in software, and for my first semester I spent about the same on books. Don't forget the $130 parking pass and the insane gas prices if you plan on going anywhere, either.
At the beginning of this year, President Joe Biden approved a loan forgiveness plan. However, this plan has been blocked by courts and has caused a halt to the program. If this doesn't change many of Ferris' students will not be able to partake in the plan. 
James Kvaal, the Education Department's undersecretary said, "Unless the [Education Department] is allowed to provide debt relief, we anticipate there could be an historically large increase in the amount of federal student loan delinquency and defaults as a result of the COVID-19 pandemic."
While this is a widely debated topic, this loan forgiveness plan has been a weight off so many people's shoulders. It is one less bill for people who are struggling to get by, and I can only see the call for it to happen again. 
Even though we are getting an education that we need for many of our careers, we are still paying an insane amount for it. I worry about what I may need for my next three years here, but I will take it one year at a time because I am determined to get my degree. 
While I am very happy to be at Ferris, I am scared for my future, and can't even image how difficult it will be to send my future children to college.