Ferris women's basketball split their weekend with a loss to the #1 ranked Grand Valley State Lakers and a win against the Davenport Panthers.
The Bulldogs (6-1) opened GLIAC play with their first loss of the season against Grand Valley (7-0). The Bulldogs were able to rebound well with a 67-55 victory against Davenport (4-4).
The Bulldogs' first game of the weekend started off very slowly after they were outscored by the Lakers 20-5. Following the hard start, the Bulldogs were able to outscore Grand Valley through the second and third quarters to bring the game within five points before ultimately losing the uphill battle against their arch-rivals.
Head coach Kurt Westendorp expressed his disappointment regarding the loss.
"As soon as you get yourself into a program that I think we've been building and get national recognition, there's no moral victories anymore," Westerndorp said. "I know they're the number one team in the country but we came in expecting to win and we're disappointed. To come out of the gate in that first quarter and be down 20-5, that was the ball game right there."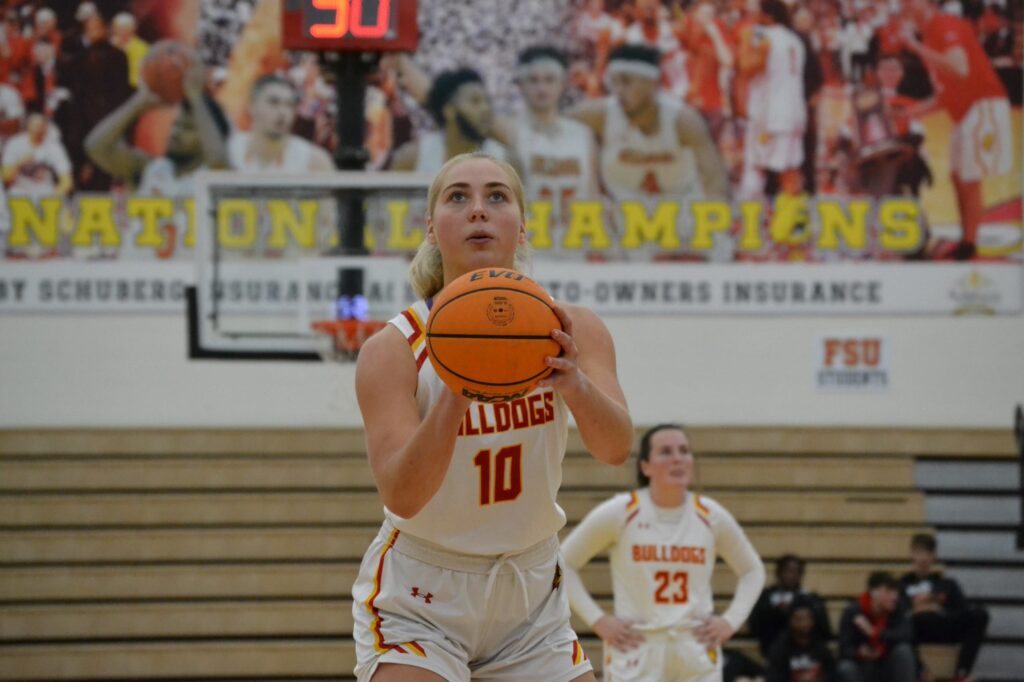 Despite the disappointment, Westendorp expressed pride in the team for battling back when down double-digits while highlighting that the team must play the full 40 minutes.
Senior forward Chloe Idoni led the way for the Bulldogs with 26 points, eight rebounds and two assists through 33 minutes played. Senior guard Mallory McCartney finished the game with 18 points, one rebound and six assists.
With the loss in the rearview, the Bulldogs played a full forty minutes in their Sunday game against Davenport. The Bulldogs were able to outscore Davenport in three of the four quarters while only being outscored by one point in the other.
"I thought our toughness really showed through in a game that wasn't very pretty," Westendorp said. "We found a way to win by getting defensive stops, rebounds and then just making just enough plays in the second half."
Westendorp emphasized taking each game as its own game following the weekend split. Despite the win, Westendorp made it clear that there was room for improvement on offensive turnovers.
The Bulldogs turned the ball over 22 times in the win. Davenport was able to score 17 points off of the 22 turnovers.
Idoni, for a second time, led the Bulldogs with 15 points and four rebounds through 16 minutes played. She said that GLIAC games are hard-fought.
"GLIAC teams come to play," Idoni said. "There's no GLIAC team where you can kind of relax or not have your best game. You have to come ready to play every game and we saw that tonight. They fought with us."
Idoni added that it "instills confidence" to have consistent and strong performances.
The Bulldogs will go on a long road trip and will not return home until Jan. 4, when they play Lewis (Ill.).