Ferris Concert Choir director Katie McInnis overcame many hardships while rearranging the structure of performances for this year's fall performance.
Members of the choir took to the Williams Auditorium stage for their annual fall concert titled "Songs of the Earth" on Nov. 30.
"Last spring as a department, we had talked about how, when we were stuck in quarantine, the one thing that truly helped us cope with it was the nature around us and how the Earth was there for us when we needed it," McInnis said.
The concert provided a vivid outlook on the Earth from different scenery and illustrations the lyrics provided.
The songs featured in this performance about nature and the environment aimed to reinforce the feelings of joy, wonder and sanctuary our planet provides.
Songs that were sung in this concert included "The Lake" written by Edgar Allen Poe. The piece was put into a two part medley about a gorgeous body of water and how it can help with lost love. The choir also put together another two medley arrangement of "Earth Song" by Frank Ticheli and "When October Goes" by Paul Langford.
"Bonse Aba," which translates to "All who sing with the spirit have a right to be called the children of god," by Victor Johnson and "Never One Thing" by Big Rapids native May Erlewine were also performed.
All of the songs included in the performance were tied together by themes of the spirit of the Earth. The songs were chosen from different countries and each had lyrics about how different places view and worship the Earth.
This concert was even more novel because the choir invited community singers and high school vocalists who participated in the District One Mass Choral Festival of the Michigan School Vocal Music Association to join them in singing several selections.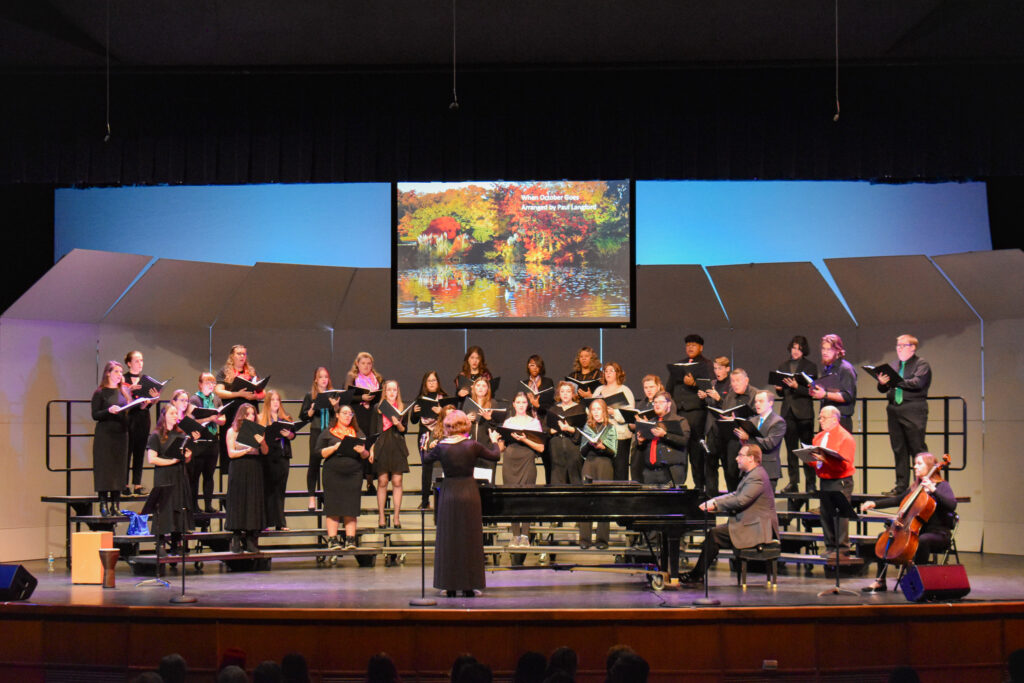 McInnis believes that through some of the hardships they faced this semester, the concert was a great outcome.
"We had some obstacles this semester," McInnis said. "Not only were we only able to rehearse once a week, but some of us got really sick and we lost some of our singers to the musical near the beginning of November. After all is said and done, this concert was amazing in my eyes and I don't think we could have done better dealing with our circumstances."
In the middle of the concert, the choir took a break from singing and allowed the pianist Andrew Focks to provide an original arrangement of "The Music Of The Night" by Andrew Lloyd Webber.
Focks was asked to preform a piece that meant something to him after being asked to create an arrangement for Webber.
"A few years ago when I was asked to make a professional transcription of music of the night for this concert in New York, I jumped at the opportunity to do it," Focks said. "Since then, it's been one of the highlight memories of my concert experience, being able to play it on stage there. When I was approached about playing a solo piece here for the concert, it just felt like a fitting place to be able to perform a piece so close to my heart."
Nursing freshman Brenna Davis enjoyed being able to sing with different people, the song selection and learning new pieces.
"My favorite part of doing this concert is that we had so many new faces from different choirs of the high school and middle school that were able to build an addition to our choir," Davis said. "The song selection was unique because it [included] songs most of us have never heard of. So we [got] to know the songs and the background."
Pharmacy senior Hunter Dewitt attended the conert and enjoyed the combination of songs.
"I thought the choir did a great job of choosing a variety of songs from different genres and songs not everyone knew," Dewitt said. "I liked that they ended with a few classic Christmas songs to give us a 'What comes next' for next month's concert."
At he end of the concert, the choir gave a preview of their upcoming winter concert with a holiday melody. The choir will take the stage again at the Jazz Band Holiday Concert on Tuesday, Dec. 6 at 8 p.m. and the Holiday Band and Orchestra Concert on Sunday, Dec. 11 at 4 p.m., also at Williams Auditorium.