There are 265 women's soccer programs in Division II across the country, and Ferris was among the last four competing for a national championship.
Traveling all the way to Seattle, the Bulldogs made their first ever Final Four appearance. This year was a festival year, meaning that championship competing teams in men's and women's soccer, women's volleyball, field hockey and men's and women's cross country were all in Seattle. Festivals happen once every four years in Division II.
Despite the budding excitement, Ferris (12-6-7) saw their season end in wrenching fashion after a 2-1 loss against unbeaten and number one overall seed West Chester (23-1-1).
A game full of momentum swings and trading chances, the final score could have gone either way. But the Bulldogs could not capitalize at the final whistle, and the chance at the national title was just out of their reach.
"Overall I was very pleased and proud of our players' efforts," head coach Greg Henson said. "I thought we were deserving to get a result."
The Golden Rams got on the board after a near 20 minutes of scoreless action. At 25:01, a loose ball found the feet of West Chester forward, Jacqueline Hug, who beat Darya Mossalaei in goal to give the Rams a 1-0 lead.
Ferris answered ten minutes later. At 36:34, senior Katie Nestico lofted a pass from a corner kick that found the head of Brinley Bell. The redirect was perfectly placed on the right side of the goal, sneaking its way inside the post to knot the game at 1-1. It was Bell's second goal of the season, and Nestico's sixth assist of the year. At halftime, the score remained 1-1.
Coming out of the locker room, the Bulldogs looked to take the momentum and played aggressively on offense, but West Chester stymied any offensive chance the Bulldogs got in the second half.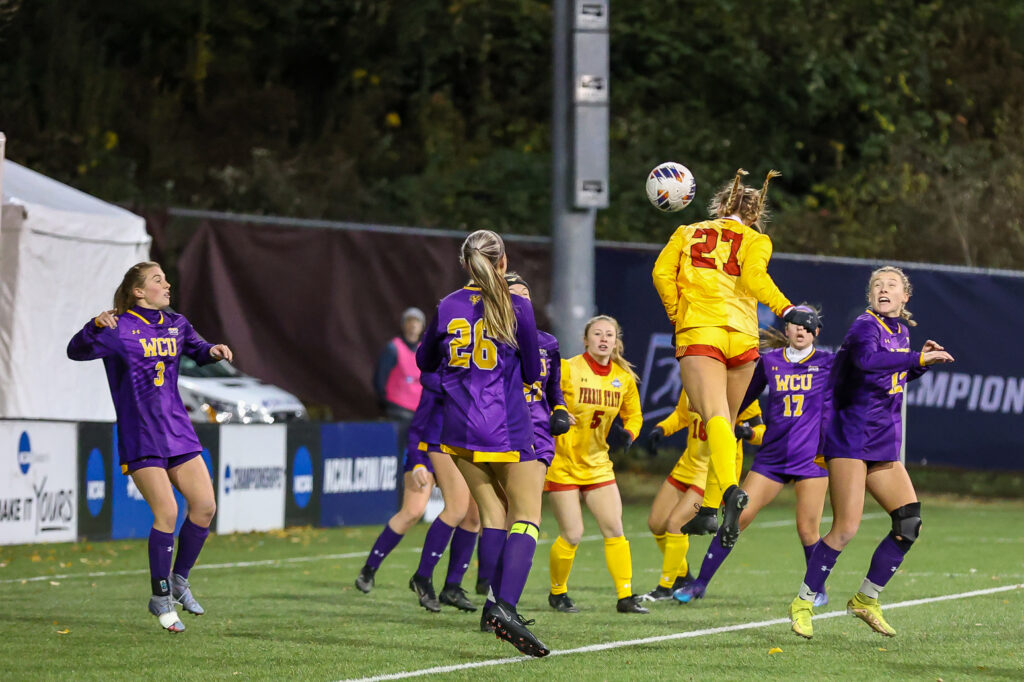 West Chester's Maggie Lena netted the eventual game winner with a shot that was just out of Mosallaei's reach to give the Golden Rams a 2-1 lead. They held that lead the rest of the game even with burning offensive pressure from the Bulldogs. Ultimately, Ferris loss 2-1 and their historic run was extinguished.
"We pushed as much as we could, we just couldn't finish," senior Nikki May said. "I'm just really proud of everyone."
May, along with senior Izzy Zamborini, will be graduating and leaving the team following this season, according to Henson. However, with the remainder of the roster in place to return next season, hopes for another deep tournament run will remain high.
"We play, in my humble opinion, one of the toughest conferences in the league and one of the toughest regions in the country," Henson said. "We're battle tested. Credit to a good West Chester team, they're the number one team in the nation. We showed that we're on even footing and can play at that level. We earned the right to be here and the future is very bright for our program."
Zamborini, a transfer from Bellarmine University, wanted to come to Ferris to compete for a national championship.
"I'm just so proud of these girls," Zamborini said. "I'm incredibly lucky to have shared a field with them these past two years. I'm sad to go out like this but I'm happy with what we've accomplished."
May also transfered to Ferris from Oakland University. Both May and Zamborini said they were glad they chose to come to Ferris.
"I'm just so happy and grateful that I got to spend my last season with these girls and make such a historical run," May said. "These girls are my family and I love them so much."
In the last four years, Ferris has made its sole three trips to the NCAA tournament in program history. It is the first time in school history that the program has made back-to-back appearances, as well as making its furthest run in the post season that has ever been done for the Bulldogs.
"It just says so much about what athletics means to this university, and when it means so much to the university, it means a lot to our alumni. It means a lot to our community," President Bill Pink said.
The Bulldogs started this season 1-3-2. Rather than chalk up the season as one for improvement, each individual on the team brought a performance that will be remembered for years and years to come. With ten players who saw significant playing time returning, the sky is the limit for this budding program.
Sports Editor Brody Keiser contributed to the reporting of this article.