The Bulldog offense was on fire as they picked up a pair of wins against Grand Valley State University and Davenport University this past weekend.
On Thursday, Dec. 1 the Bulldogs took on rival Grand Valley, winning the matchup 97-68.
As a team, the Bulldogs were 55.1% (38-69) from the field and 48.3% (14-29) from the three-point range.
The Bulldogs out-rebounded their opponent 44-38 and won the assist battle 29-8.
"I'm really impressed with them," head coach Andy Bronkema said. "Tonight was our night because a lot of balls just went through the hoop, and some nights, they don't go in like that and you have to find a way to win but tonight the basket was big for us."
Ben Davidson led the Bulldogs with 29 points, shooting 10-12 from the field, 6-7 from three-point range and 3-4 from the free throw line. Davidson also added five rebounds and four assists in the game.
"I was just looking to have some fun tonight and beat our rivals," Davidson said. "I was able to knock down some shots, which is always nice for everybody. I mean, in a 30-point win everybody's playing well, not just me. So, it was awesome."
Six players scored in double figures for the Bulldogs. Ethan Erickson had 14 points off the bench, Deng Reng had 13 points, Mykel Bingham added 12 points off the bench and Solomon Oraegbu and Vejas Grazulis both finished with 11 points.
Leading the team in assists was Amari Lee with seven, Jimmy Scholler had six and Oraegbu finished with four.
Bingham led the team in rebounds with nine, Reng had six, Grazulis added five and Reece Hazelton added four.
The Bulldogs shifted their focus to another league matchup with Davenport University on Sunday, Dec. 4.
The Bulldogs stayed hot on offense shooting 58.3% (35-60) from the field, 57.1% (12-21) from three-point range and 75% (21-28) from the free throw line that led to a 103-54 win.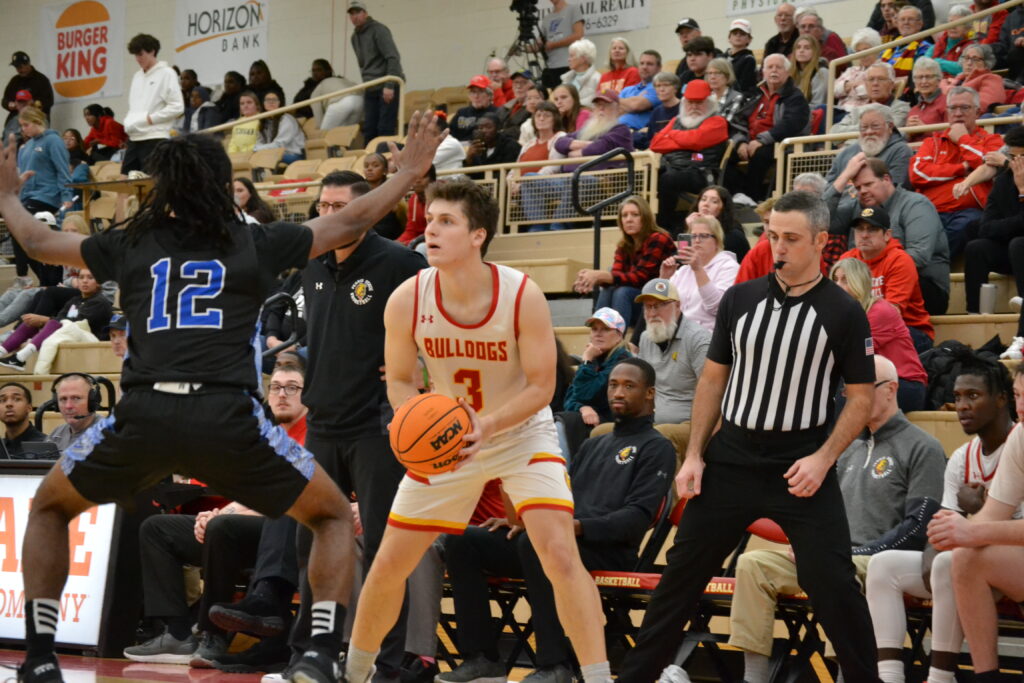 "There's not a lot to say about this game," Bronkema said. "We played really really well we shared the ball; we made a lot of shots, we were in tune to the game plan and it was a good night for us."
The Bulldogs won the rebound battle 43-27 and had more assists, 28-12. The Bulldogs bench also outscored their opponents 44-15 on the night.
Reng led the team in scoring with 23 points on an efficient shooting night. He went 6-7 from the field, a perfect 3-3 from the three-point line and a perfect 8-8 from the free throw line. He also grabbed eight rebounds and had five assists in the game.
"We just moved the ball really well," Reng said. "Everybody screened for each other, we got each other open and we just took the open shot, took whatever they gave us."
The Bulldogs, again, had multiple players in double digits in scoring with five.
Oraegbu had 18 points, Erickson added 14 points off the bench, Grazulis had 12 points and Lee finished with 11 points coming off the bench.
Bingham led the team in rebounds, grabbing 10, Grazulis and Oraegbu both had four and Davidson and Brandon Clearbaut both finished with three.
Lee had nine assists to lead the team, Davidson and Erickson added four, Oraegbu had three and Scholler finished with two.
The Bulldogs will be back in action again as they hit the road for a two-game road trip when they take on Northern Michigan University Friday, Dec. 9 at 5:30 p.m. and then take on Michigan Tech University Sunday, Dec. 11 at 3:00 p.m.