Two Ferris history professors and a former United States Marine gave an updated panel on the war in Ukraine with expertise, heart and humor last Tuesday.
Part of the "Passion for the Past" series, history professors Christian Peterson and Tracy Busch joined Marine Corps Reserve Officer and husabnd Ben Busch to offer three unique perspectives. Ben's largest goal for Ferris audience members was to provide important context.
Ben recently returned from his second self-funded tour in Ukraine where he trained locals how to fight on a battlefield. He served as a primary source for the professors to paint a clear picture of the happenings in Ukraine. Ben shared mementos and memories, including a piece of Russian shrapnel that tore into a Ukrainian house. He also gifted Peterson, an enthusiastic critic of Russian President Vladimir Putin, with toilet paper that featured Putin's face on each sheet.
These objects and Ben's presence demonstrated a truth of the war, the hard realities that the citizens of Ukraine are fighting through and the cultural rejection of Putin's territorial claim.
Tracy was the first speaker at this event. The self-proclaimed "Russianist" wore bright blue and yellow, now instantly symbolic of Ukraine. As a doctor of Russian and European history who lived in the Soviet Union as it collapsed in the 1990s, she offered the Russian perspective. Tracy felt "tortured" when the country she spent so long studying launched an unprovoked invasion. After mulling over the complexities, she believes that Russia has no legitimate claim to Ukrainian land, and she offered her expansive historical knowledge to explain why.
"There's been times when parts of Ukraine have been part of the Austro-Hungarian empire, a part of the Polish commonwealth, so it does not belong to Russia," Busch said. "Part of the propaganda the Russians used to justify their invasion is… Ukraine is not its own state, it's part of Russia."
Peterson presented second. As the residing United States foreign policy expert with a specialization in Soviet Imperialism, he presented the American and Western perspective on the war. He confidently took to the Science Building podium, and his strong stance against Putin's invasion was unmistakable from the tone of his voice to the color of his face.
"Russian leader Vladimir Putin is a fascist, genocidal dictator," Peterson said. "They talk about denazification. They talk about desatanization… which means obliterating the Ukrainian identity and killing people if they stand in their way."
Peterson sees Russian aggression as an extreme threat to a blossoming democratic state, and that not only should the U.S. do its part to fund and support the Ukrainians in this conflict, but that it is the cheapest and most cost efficient war America has ever participated in.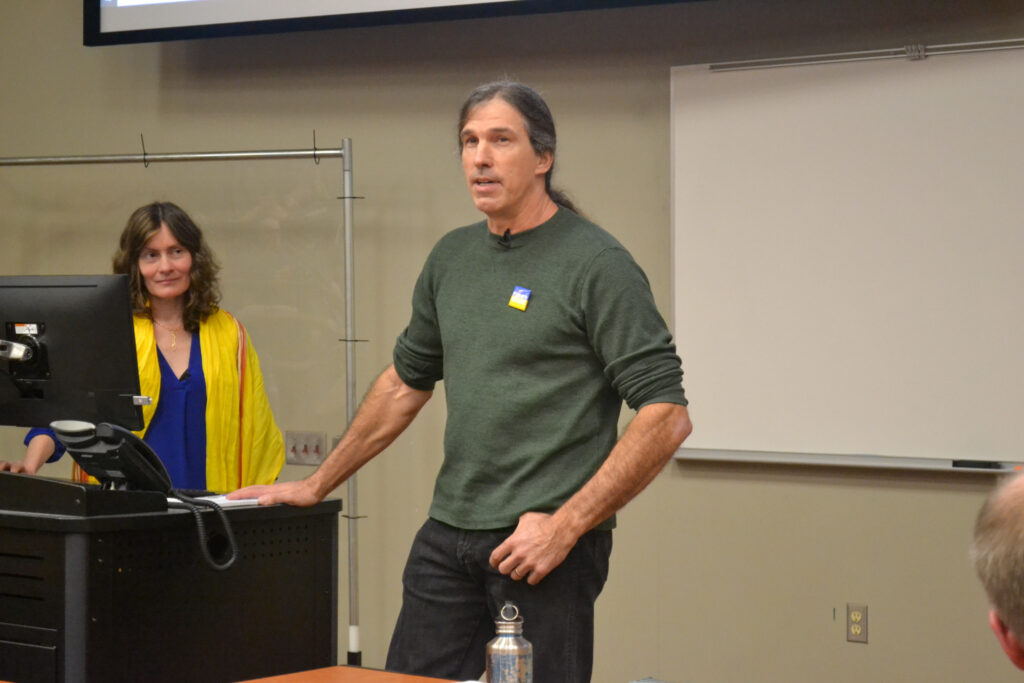 The speakers hope that this event adds important context to the struggle of the Ukrainians. Ben believes it can be difficult to understand the war without a wide view of information on the situation.
"A sense of context is probably the most important," Ben said. "We are all getting different perspectives, different biases, competing for everyone's sense of what's happening."
Criminal justice sophomore Elle Lowery says that the presentation offered just that, a well informed perspective. Lowery says that her friends and family tend to be republicans that criticize American involvement and aid going to the Ukrainian war effort. She points to this presentation as a fuller source of information with less conjecture. She said it help her come to her own conclusion on the U.S.'s role in the conflict.
"I definitely really enjoyed Ben's perspective. Being there on the ground, [seeing] how many casualties there actually are, how many lives are being taken. This is really affecting real people. It's not just media news," Lowery said.
Last Tuesday's event differed from the first panel on the war in Ukraine held in March. The fourth panelist, Russian-born English professor Lilia Caserta, was not present, as she no longer works at the university. She is now a lecturer in the department of Slavic and Eastern European languages at Ohio State University. Still, the presentation was packed full of information from three distinct viewpoints. It also achieved a new level of intimacy because it was held in-person rather than on Zoom like last spring's presentation.
For more of the Torch's coverage on Ferris historians and the war in Ukraine, visit fsutorch.com to read about last semester's presentation and how the Busch family sent Ben to Ukraine.