With their win against the Colorado School of Mines Orediggers, the Bulldogs added their name to a list of now six universities who have repeated as national champions in DII football. The most recent team to have won championships in back-to-back seasons was Northwest Missouri State in 2015 and 2016.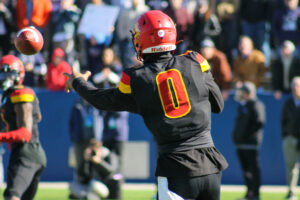 After winning national championships in 2021 and 2022, Ferris and head coach Tony Annese will again face high expectations as they enter 2023. The championship run in the 2022 season was powered by an elite defense captained by the new single-season sack leader in college football history, Caleb Murphy, and a historic season from quarterback Carson Gulker. Before the Bulldogs can begin their quest for a third consecutive national title, let's take a look back at the numbers that led to this season's championship.
DEFENSE
The strength of this Bulldog team was on the defensive side of the football. Ferris allowed 14.6 points per game, good for seventh best in the country. Their 228.5 yards allowed per game was third best in the nation, including 67.3 rushing yards per game, which was fourth best, and 161.2 pass yards per game, which was 17th best.
Ferris had the second-best pass rush in the country, recording 66 sacks on the season. Murphy led the way with a college football single-season record of 25.5 sacks. He broke the single season record of 24 sacks set by Terrell Suggs, a player who once played for Arizona State, which has stood since 2002. Murphy also won the Cliff Harris award for the nation's best defensive player from a small college.
Olalere Oladipo generated 9.5 sacks, the 39th most in DII football, and formed an elite edge rush duo with Murphy. Ian Hall had eight sacks and Jordan Jones had 6.5.
Ferris also finished second with 139 tackles for loss, of which Murphy accounted for 39, the most in DII football. As a team, Ferris had 15 interceptions and tied for fifth in the country. Sidney McCloud and Jaire Alexandre each led the team with three picks. Murphy led the way for Ferris with 93 tackles. Cyntell Williams added 76, and Konnor Near had 66.
OFFENSE
Ferris' offense was ranked 21st in the nation in terms of total offensive yards with 6,208, which is good for 427.2 yards per game. Mylik Mitchell led a passing attack that threw for just 210.5 yards per game. Mitchell completed 62.3% of his passes on the year for 1,512 yards.
The Bulldogs possessed one of the nation's best rushing offenses in 2022. They averaged 216.7 yards on the ground per game, the 15th best mark in the country. A DII-leading 706 rushing attempts allowed the Bulldogs to control many games on the ground.
Despite the strength of the run game, Ferris had just one player in the top-50 nationwide for rush yards. This player was Gulker, who accumulated 882 yards, the 44th most in DII football. Gulker finished with the most rushing touchdowns in football with 31. Marcus Taylor, listed as a receiver, became the de facto running back for the Bulldogs late in the season. He finished with 773 yards and averaged 6.7 yards per carry.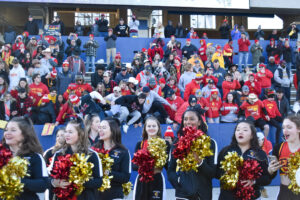 The receiving room was a revolving door for much of the year. Brandon Childress and Xavier Wade both dealt with injuries, and Tyrese Hunt-Thompson did not play in the final two postseason games due to the suspension he was given after an altercation that occurred after the Bulldogs beat Grand Valley. However, Hunt-Thompson still led the team with 714 yards, followed closely by CJ Jefferson with 710. Taylor finished with 430 and no other Bulldog reached 300 yards.
As a whole, the offense scored 535 points, the fifth most in DII football. Gulker contributed 186 of those points, a team high, and freshman kicker Eddie Jewett pitched in 86. Jewett finished 8-13 on field goals and 62-66 on extra points for the season.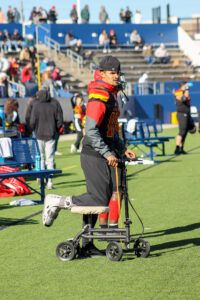 OTHER
Ferris struggled at times with penalties this season. They committed 130 penalties for 1,196 yards. That mark was outside the top-50 in fewest penalties this season. William Jewell had the 50th fewest penalties with 63.
The Bulldogs went 86% in the red zone, including a 72% touchdown conversion rate. They averaged 31:39 of possession per game. On average, 5,237 fans attended home games.