Ferris football coaches Ryan Hodges and Tony Annese have shared four national championships and over 100 wins as a coaching duo at the collegiate level, but the two have a history far beyond that.
The two have been connected through football for well over two decades. From when they were only a player and a coach under the Friday night lights of high school football, to when they later reunited on Muskegon's coaching staff, to when they climbed the ranks of college football, it's been a long and enjoyable ride for both coach Hodges and head coach Annese.
The first time they worked together was when Hodges was a player at Montrose High School, where he suited up to play under Annese as a sophomore. The Montrose Rams built a streak of 61-straight regular season wins by the time Annese moved on from the position, but for Hodges' junior and senior seasons, that total would move up to 80 wins in a row. It would be nearly 10 years before the two would be on the field together again.
"I tease and say he was a lot meaner back then," Hodges said. "He's always been a great head coach."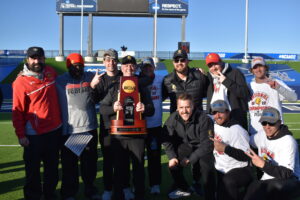 During their time apart, Hodges suited up as a Bulldog from 1997 to 2000, building up quite the reputation as a player. As a four-year letter winner and defensive end, he earned All-GLIAC honors in his final season. His experience as a Ferris alum, as well as a former defensive player, helps him with coaching those who are in the shoes that he once filled.
Shortly after his graduation, Hodges received a call from Annese asking him to join the coaching staff for the Muskegon Big Reds, one of the most storied programs in Michigan high school football. During his time there, he was Annese's defensive coordinator. He also moonlighted as the head coach for the junior varsity football team and the coach for the softball and powerlifting team. Additionally, he coached for Muskegon's semi-pro team, the Muskegon Thunder, posting a 22-5 record.
"So I started coaching with him really legitimately in 2003 as a student teacher," Hodges said. "We won three state championships, and I became a JV head coach [and] got to lead a team myself for a few years."
After his stint with the Big Reds, Hodges was once again asked by Annese to join another coaching staff, this time at the next level at Grand Rapids Community College. For three years he coached the defensive backs for the Raiders, gaining two national championships in three years for the team in 2009 and 2011.
"When he got the job opportunity at GRCC, really for me it was a no brainer," Hodges said. "I didn't have much of a choice but to follow."
Now with almost 10 years of coaching experience under his belt, Hodges followed Annese again after winning the championship at GRCC. He returned to Ferris, his alma mater, so they could bring a desperate program its first glimpse of success in many years. Annese brought a well oiled machine of a coaching staff over from GRCC, who were ready to build a consistent and winning program at Ferris.
With Hodges at the helm of the defense, it looked to be a hopeful change as the team went 7-4, 6-4 in conference play in the first year under new management. With major help from Hodges and the rest of the coaching staff, Annese has never had a losing season as the Bulldogs' head coach, going 115-17 as a coaching duo.
In the last four trips to the playoffs, Hodges has had what is said to be the best defense in Division II football, considering the last two seasons saw the Bulldogs win it all. The defense allowed only 17 and 14 points, respectively, in their championship games against Valdosta State in 2021 and the Colorado School of Mines in 2022.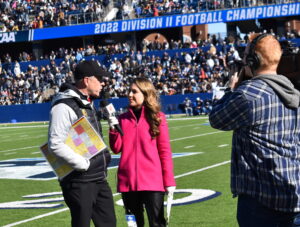 Coach Hodges has a tall task ahead of him in this offseason. With nearly all of the defensive line, and many key players in the secondary, graduating or declaring for the NFL draft, what will Hodges and the team do to maintain their reputation? Not to worry, though, as Annese and Hodges, as well as the rest of the coaching staff, have been incredibly efficient in recruiting.
Being the reigning national champions helps out a lot for the recruiting aspect, as last year the Bulldogs had the number one recruiting class in all of DII football. With the resume that the team has continued to build in the 2022 season, Hodges' defense most likely won't have a problem finding dominant players.
"Our coaching staff has been extraordinarily good at connecting with high school coaches and high school football players in this state and throughout the nation," Annese said.
Building a brotherhood of champions is no easy task, but the Bulldog's mantra, "love being the catalyst of the program," will be the reason why the season of success is not finished in Big Rapids. Buying into everything a program such as this one has to offer is more than enough to keep on winning.