Marcus Taylor was a key player for the Bulldog's offense this season as they set out on their journey to become back-to-back Division II national champions.
Originally a slot wide receiver for the Bulldogs, Taylor was converted over to the running back position for a majority of the season.
"We kind of [were] on the inexperienced side," Taylor said on what made him switch to a new position. "I decided to, you know, talk to coach, and we went from there. He actually moved me to the backfield, and I started learning running back plays."
Taylor was comfortable in the running back position. He played in the running back position in high school for a period of time, which helped him with the change.
"I felt explosive," Taylor said. "I felt more explosive in the backfield. It's different when you are facing the defense in the backfield. So I felt completely explosive and in control, man, and it kind of felt like I did it too late."
This season Taylor rushed 116 times for 773 yards and earned three touchdowns while averaging 6.7 yards per carry.
Even though Taylor was moved to the running back position, he was still a huge component of the Bulldog's passing game this season.
"Just doing whatever coach needs me to do," Taylor said. "Catching the ball, a lot of bubble plays and things like that."
In the passing game, Taylor had 35 receptions for 430 yards and two touchdowns while averaging 12.3 yards per play.
Taylor also had one passing completion for 38 yards this season.
"I'm a playmaker," Taylor said. "Like, just put the ball in my hands and I get something going."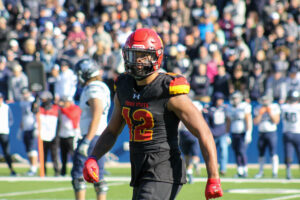 Taylor was a playmaker for the Bulldogs in the playoffs this season. He had two big performances in the national semifinals and the national championship. 
In the national semifinal game against the University of West Florida, Taylor ran 20 times for 181 yards and scored a touchdown. He averaged 9.1 yards per carry to help lead the Bulldogs to a 38-17 win and advance to their second straight national championship game.
In the national championship game against the Colorado School of Mines, Taylor was a playmaker again. He ran 13 times for 103 yards while averaging 7.9 yards per carry to help lead the Bulldogs to a 41-14 win. That win made the Bulldogs back-to-back national champions.
"I had a bittersweet feeling," Taylor said on going into the championship game. "It was a surreal moment because that was my last college football game. So, on top of it being in the national championship, who wouldn't want to end their career off like that, and I looked at it as just a blessing [and] an opportunity at the same time just because, where I'm coming from, the likelihood of the people I'm around doing something like this is slim to none."
Taylor ended his college career by winning another Division II national championship with his team. Taylor is now a two-time Division II national champion.
"The times and memories that me and those guys made are priceless," Taylor said. "Like, we had some very good times, man."