There's no exact equation for how to create a championship level team, let alone a team
capable of winning two consecutive national championships.
One part of any championship team is having players who show up week-in and week-out with their performances. These impact players are the ones a team can count on anytime. This begs the question of who the Bulldogs' impact players were this past season.
CALEB MURPHY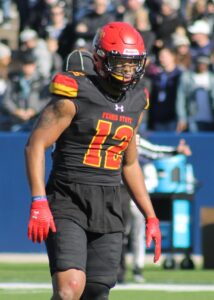 Harlon Hill trophy finalist. Cliff Harris Award winner. Ted Hendricks Award winner. This is only a sliver of the awards senior Caleb Murphy won during the 2022 season. On top of this, Murphy broke the single-season sack record through all divisions of NCAA football with 24.5 sacks.
Murphy, a transfer from Ferris' arch-rival Grand Valley, had a monstrous year with the Bulldogs. Murphy's success helped his team achieve their ultimate goal: a second national championship. The Bulldog defense proved mighty in the 2022 season, where they only allowed 14.6 points a game against opponents. Murphy was a shining star of this defense. His 24.5 sacks led to a whopping 193 yards lost for any quarterback who was on the other side of him. Alongside this, Murphy recorded 39 tackles for loss for a total of 215 yards.
TYRESE HUNT-THOMPSON & C.J JEFFERSON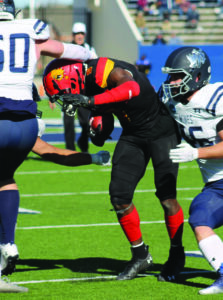 Although the passing game for the Bulldogs wasn't the biggest star this season, the top two receivers for the Bulldogs had excellent seasons. Leading the Bulldogs in receiving yards and receiving touchdowns was sophomore wide receiver Tyrese Hunt-Thompson, who had 714 yards and four touchdowns. Not far behind Hunt-Thompson is junior slot-receiver C.J. Jefferson with 710 receiving yards and two touchdowns. Jefferson also led the Bulldogs in receptions with 58.
With starters Brandon Childress and Xavier Wade missing substantial time this season with injuries, the Bulldogs needed receivers to step up. Hunt-Thompson and Jefferson were up to the call.
EDDIE JEWETT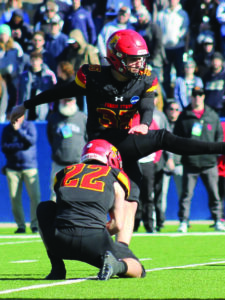 You don't get a nickname like "Steady Eddie" without some form of consistency. Freshman kicker Eddie Jewett came second in scoring for the Bulldogs. Jewett went eight for 13 in field goals and 62 for 66 in extra points. Jewett's clutch gene showed mightily in the playoffs with a game-winning field goal to beat Pittsburg State and a huge game-winning field goal against Grand Valley in order to sink the Lakers.
CARSON GULKER
Following the conclusion of the 2021 season, the Bulldogs had a Jared Bernhardt sized hole in their offense. How do you replace such a dominant, mobile quarterback? The answer turned out to be Carson Gulker.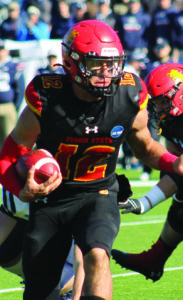 The redshirt freshman did not produce as much yardage as the previous rushing quarterback, but he made up for this by leading the Bulldogs in scoring whilst rushing for 31 touchdowns. Gulker averaged 4.2 yards per carry throughout his 882 yard campaign. In the national championship game, Gulker was responsible for three of the Bulldog's touchdowns in the 41-14 victory.
VINCENT COOLEY
Another defensive gem for the Bulldogs came in the form of sophomore defensive back Vincent Cooley. The 6'1' ballhawk led the Bulldogs in interceptions with five, one being a pick-six, and 68 yards on interception returns. Cooley also led the Bulldogs in pass break-ups with 10. Cooley's efforts came up huge against Grand Valley when he sealed the 24-21 win against the rival with an endzone interception.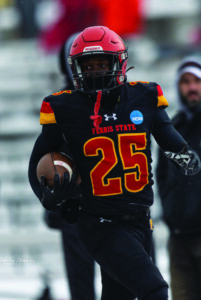 HONORABLE MENTION
During the 2022 season, the Bulldogs had four different passers throw a minimum of ten passes. The four passers, junior Mylik Mitchell, senior Evan Cummins, redshirt freshman Carson Gulker and sophomore Jesse Rivera, completed a combined 223 passes on 367 attempts. Of those attempts, the four passed for 3,072 yards, 17 touchdowns and nine interceptions.