In such a small town, it can be difficult to find things to do outside of work and school. Luckily, hidden inside the Student Recreation Center is a gem for students that are looking for something to do: a rock climbing wall that allows students to stay active and have fun.
Rock climbing can offer both physical and mental health benefits. Climbing also works out your upper and lower body, and can help improve your stamina.
Biology and pre-optometry senior Nicolas Schmidt works at the rec center's front desk and believes that being a part of the community is a "big part of the college experience."
"I'd never done a rock wall until, one night a few years back, me and my buddies discovered there was a rock wall at the rec," Schmidt said. "We tried it out, and it was a lot of fun. It's a new way to work out your body that's not just lifting weights or running around the track. We've done it multiple times afterwards, and we always recommend students to utilize it."
Forensic biology sophomore Ella Connors has worked in the climbing room for two years. She thinks "anyone can climb," and the only challenge is a person's length when rock climbing. Though anyone can use the rock climbing wall, Connors has seen that most students are enticed by the workout.
"A lot of the guys that come in also come to the gym here too," Connors said. "I think it works out different muscles for them, and climbing helps them actually use those muscles instead of just growing them."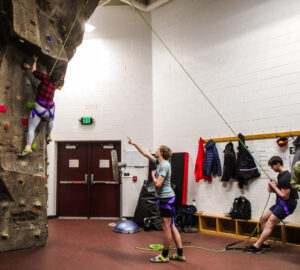 Even though the rock climbing wall can be used as a workout or just to exercise, it can also be used for fun. There are a few different ways to climb up it, so it gives beginners and experts a chance to thrive and work within their limits.
Psychology senior Sydney Mingori doesn't think she's very good at rock climbing, but she still had a fun time with her friends when they all went.
"My roommate actually comes here a lot to rock climb, and today he invited me to tag along," Mingori said. "It sounded fun, and it's not as intimidating when you go with friends. My first time going up, I just fell down. It doesn't hurt, though.
It's just something you have to learn and get used to. It's cool that we can do this together with different skill sets and still have fun."
With so many functions and different uses, a lot of students can utilize the rock climbing wall to fit what they want to do. Members of the ROTC program and Greek life on campus have also gone to the rock climbing wall to promote team bonding.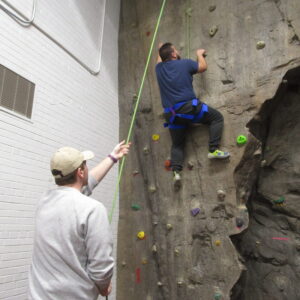 Music and entertainment business junior Maddie Lockwod says that the process is "easy" and only takes a few minutes to get everything set up. She explained that there are different levels of difficulty and heights.
"It's not a super strenuous workout, but you are going to activate your upper body muscles and build strength," Lockwod said. "The rock climbing wall is super calming to me because you can be analytical, planning out what your hands are reaching for next, trying to strategically map out your pathway up the wall."
So, the next time you're having difficulty figuring out what you want to do or where you want to go, grab a couple of friends and meet them at the rock climbing wall for some active fun.