Ferris is by no means a football powerhouse that churns out NFL talent, but it still deserves more respect than it gets.
Currently, Ferris has five active players in the NFL: Malik Taylor, Tavierre Thomas, Jared Bernhardt, Justin Zimmer and Zach Sieler, according to Pro Football Reference.
Bernhardt's name may strike a familiar chord with Ferris football fans, as he was a part of the Bulldogs'  undefeated season in 2021, where they won the first of two back-to-back national championships. While at Ferris, Bernhardt became a national sensation, and his story captivated many. Now, he has taken on a new role for the Atlanta Falcons in the NFL.
Bernhardt now serves as an extra wide receiver for the Falcons, signing with them after the 2022 draft as an undrafted free agent. Bernhardt's road to the NFL has not been easy. In his rookie season, he only played two games with no looks due to an injury. However, reports indicate that he is back at practice with the team and will be looking to improve next year.
Perhaps the best pro-football player to ever come out of the Ferris football program is Miami Dolphins defensive end Zach Sieler, a seventh round pick by the Baltimore Ravens, who ended up being a waiver claim for the Dolphins. He has become a regular starter for the Mike McDaniel-led squad.
This season, Sieler started a career-high 15 games. He contributed 32 solo tackles, 3.5 sacks and two forced fumbles to lock in arguably his best season in the NFL, according to his stat sheet on the Miami Dolphins website. 
Sieler recorded a defensive fumble-return touchdown in the Dolphins' playoff loss to the Bills.
In the 2020 offseason, he signed an extension that will carry into the 2023 season, in which there should be high demand from other teams looking for an aggressive defensive end with a pension for running over offensive blockers.
Playing on the same defensive line with Sieler is another former Bulldog, Justin Zimmer. Zimmer is a 6'3', 300-pound defensive tackle who doesn't necessarily have the solo stats Sieler has, but he helps maintain the ferocity of the Dolphins' defensive line, which has guided them into the playoffs.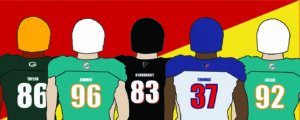 Zimmer bounced from team to team for a few years before landing in Miami. He previously played in limited stints with the Falcons, the Cleveland Browns and the Buffalo Bills. Since joining with Miami, he has played in five games and started in one, however, he has only achieved one combined tackle so far in his Dolphins career.
Another former Ferris standout playing in the NFL is wide receiver Malik Taylor, a physically intimidating receiver standing at 6'1' and 220 pounds. Taylor spent 2020 and 2021 with the Green Bay Packers, notching seven receptions, 80 yards and one touchdown as a formidable receiver coming off the bench.
Unfortunately, Taylor spent this season on the injured list after his considerably positive first two seasons, and he was recently waived by the Packers following their disappointing 2022 campaign. He was recently signed by the New York Jets, a team that could use some extra help when it comes to formidable receivers.
The final Ferris graduate currently playing in the NFL is defensive back Tavierre Thomas of the Houston Texans, who has had a sneaky good couple of seasons since joining the squad in 2021.
Thomas began with the Browns as an undrafted free agent, although he struggled in Cleveland, notching only two tackles in three seasons with a 79.2% pass completion rate in 2020, his last season with the team. In his first season with Houston, however, he lowered his pass completion rating to 61.9% throughout 17 games, an impressive improvement.
With former graduates like Sieler, Thomas, Taylor, Bernhardt and Zimmer, Ferris shouldn't be counted out because there is considerable talent, even if it does come from a smaller school. We don't churn out draft picks like Georgia or Alabama, but Ferris should still be looked at as a sort of Division II equivalent to North Dakota State, another small Midwest school with an increasing number of alumni in the NFL over the past decade.