Following a loss last Saturday to Lake Superior State, the Bulldogs got back on track with two conference wins this weekend.
On Thursday, Ferris (13-5, 4-3 GLIAC) defeated Purdue Northwest 75-55 in a dominant performance on the boards. The Bulldogs only shot 41.7% from the floor but made up for it by outrebounding the Pride 51-26, and by forcing 19 turnovers.
"It doesn't feel good to lose," head coach Andy Bronkema said. "We thought we didn't put enough effort [last Saturday]. We could have lost tonight, but it wouldn't have been because of our effort."
Solomon Oraegbu led the Bulldogs with 23 points and nine rebounds. He was followed by Ben Davidson's 14 points and Vejas Grazulis' 13 points. Amari Lee and Jimmy Scholler added seven and six assists, respectively. Mykel Bingham registered ten rebounds, and Reece Hazelton added eight.
"We didn't make shots," Davidson said. "We just kept to the game plan of just playing with immense energy and work, and we held them to under 60 points."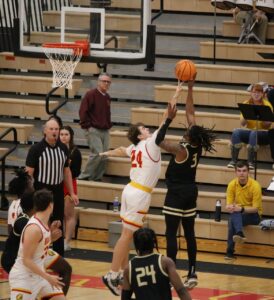 Dolapo Olayinka added five rebounds and two blocks in 16 minutes for the Bulldogs. This was his first game back from injury since Nov. 23 against Ashland. When asked about the rebounding effort, Davidson made sure to point out Olayinka's return as a key factor.
"He's a freak and a crazy athlete," Davidson said. "It was awesome to finally play with him again."
The Saturday contest was a well-anticipated one, where the Bulldogs hosted WisconsinParkside, the top-GLIAC squad. Behind a dominant 46-point first half, Ferris held onto their 16-point halftime lead for a 93-71 win. The Bulldogs improved their shooting to 60.7% in the contest, along with 46.2% from the 3-point range.
"These last two games, I just thought we were locked in," Bronkema said. "I liked to see that, and we have to keep doing it."
Oraegbu, a former Ranger, led Ferris with 28 points, followed by Davidson with 18 and Scholler with 17. Olayinka registered 14 points and ten rebounds. Lee added seven assists, and Oraegbu nabbed three steals.
When asked about the dominant performance, Oraegbu said it "meant a lot" to him, doing that against his former team, and that the energy spark from the fans made a great game atmosphere.
With the victories, the Bulldogs move to 13-5 on the season and 4-3 in GLIAC play. The wins also helped the Bulldogs jump to the number four spot in the conference standings. Ferris will now head on the road for away games at Saginaw Valley State on Thursday and Wayne State on Saturday, who also have a 4-3 conference record.
"I love competing in the GLIAC," Bronkema said. "There's a lot of good coaches, and it's a fun league. You have to do it on the road, and you prepare to win. If you don't, you get back to the drawing board."
Thursday's game tips off at 8 p.m. and Saturday's begins at 3 p.m. For more information, visit ferrisstatebulldogs.com.