Ferris Department of Public Safety officers will begin wearing body cameras by next month.
DPS director Abe Haroon plans to fulfill his promise to equip officers with body worn cameras, and he hopes that this will increase transparency and civility regarding disputes here at Ferris.
This policy is being met with excitement from officers and students alike who hope for the same. Members of both sides feel they will be safer if all parties are being held accountable. 
However, the trick is buying equipment and having a process that actually holds people accountable. One aspect that can be overlooked is battery life and storage. If both are too small to accommodate an officer's entire shift, then the cameras are not fulfilling their use.
Students from the Office of Multicultural Student Services communicated this concern and also a desire for the body cameras to record audio in addition to video. They point to past experiences with law enforcement where officers were disrespectful, impatient and even threatened violence on them. Business administration senior Jaylynn Wynns, a student worker at the OMSS, believes these experiences would have been different had the officers worn body cameras.
"It keeps them honest," Wynns said. "You're not gonna do your job wrong when it is documented…, so now they will think twice before doing something."
Haroon assures the Ferris community that he has these issues in mind and the WatchGuard v.330, the camera model that DPS officers will use, addresses them.
"Many of the specifications should be geared around usability, storage options [and] battery longevity," Haroon said. " The [cameras] will work with the in-car system, have a fast upload time, 1080p resolution and have a battery that should take an officer through their 12-hour shift."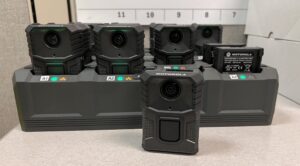 The WatchGuard model also boasts durability, CD quality audio recording and the feature to record footage taken before the officer begins recording. However, some believe the issue cannot just be solved with the right equipment. Digital animation and game design senior Jaylen Woods also believes that officers need to be held accountable for keeping their cameras on and recording during duty.
"It isn't hard to turn a camera off and on, or to take it off, or to delete some files," Woods said. "There should be a penalty if they do… because it is a big thing like what we've seen in the Black Lives Matter movement and social justice movements in general. It's one of those things. It keeps people honest."
When asked about holding officers accountable, Haroon believes he has addressed these concerns with a couple of policies.
"Officers will be required to inspect and ensure that the [camera] is operational prior to entering their shift," Haroon said. "Once officers have ensured the BWC is operational, the officer will note it in the computer aided dispatching system… [and] the administration will perform periodic audits on all officers. Such audits will be done with the sole purpose to determine if activation was made on events that would require activation."
In the upcoming weeks, the Ferris community will see how these policies develop and how DPS will handle the first deployment of body worn cameras.