Out of the Final Four women's soccer teams in DII, there are many things that stood out about Ferris. One: they were the only team that reached the final despite winning less than 18 games. Two: they were the only six-seed to reach the Final Four since at least 2015. Three: they were the only team with a pair of freshmen starting center backs.
One of those players, Bella Vallone, was one of only four Ferris players to start in every game this season. The first-year Bulldog, according to head coach  Greg Henson, was a pivotal, consistent piece within the strong defensive core this season.
"Throughout the season, they got more confident in themselves and the confidence to communicate with older teammates," Henson said. "I think that is really when they settled in and played well."
Only a year and three days before reaching the National Final Four, Sparta High School football was 7-2 and heading into a district playoff game against Whitehall. Their starting kicker: Bella Vallone.
"My best friend's dad, who I've grown up with, was one of the football coaches," Vallone said. "It had always been a joke for one of us to kick for the football team because [my best friend] also played soccer. The first year, we both kicked. She did more kickoffs, and I did extra points."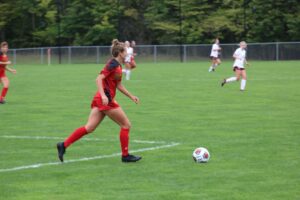 It had only been two years prior when Sarah Fuller had begun the trend of female kickers and became the first woman to ever score in a Power Five conference collegiate football game. Much like Fuller's journey to Vanderbilt's field, Vallone's began with a tryout. The only difference: Vallone almost missed the chance.
"One day during the summer, [coach Cowdrey] was at my house, and he was complaining about the new season since they lost a bunch of players and a kicker," Vallone said. "He told me to come to practice tomorrow, and I thought he was joking. The next day, I got a text from him asking me where I am and that practice is going to start soon."
Vallone eventually made the squad and kicked 31/35 extra points during her two seasons of varsity football and accrued an all-conference honorable mention award.
According to her long-time basketball and football coach Jeff Cowdrey, Vallone's natural athleticism and versatility were key factors on how Vallone was so successful in any sport.
"She's an athlete through and through," Cowdrey said. "She's got athletic skills that that are fantastic and the vision to translate from one sport to another. It's been constant with her work ethic, the vision and the competitive spirit that she has. On top of that, she's really a good human."
Vallone also accrued a great resume in high school on the soccer field, where she helped Sparta win 16 of 19 games and their first OK-Silver conference championship in school history her senior season. She also was a club standout for Midwest United, one of the region's prime clubs coached by Remco Bergsma.
Bergsma said Vallone was one of the most determined players he had ever seen.
"She just wants to be a sponge about how to just get better," Bergsma said. "When she came to practice, she didn't come just to be social. She wanted to improve on her skills. She's such a great person to coach and easy to coach because she wants to learn."
Not only was her determined work ethic noticed by college coaches, but also her advanced skill set on the field. According to Henson, it was her "overall athletic ability" and her "ability to play multiple positions" that were key components in his interest to recruit the Spartan standout.
The former footballer and basketball player eventually chose to play soccer at Ferris, but it certainly took some time to reach the decision.
"For some reason, Ferris never stood out to me at the beginning of recruiting," Vallone said. "I had overlooked it because it's about 30 minutes from where I lived."
In the end, Vallone chose to be a Bulldog due to the close but not too close location to home, past seasons success, familiarity with other players and the coaching staff.
The freshman accrued many memories overall in her first season of competitive action, including her first collegiate goal off a corner kick on Nov. 1 against Michigan Tech. While the milestone was great, Vallone mentioned the regional tournament title victory as a top memory of all.
"It was the game against Grand Valley in Bemidji when it was freezing. We got the win over them and our teammates had always said the best days were when we can celebrate in the locker room with 'anchor down.' Because they had hyped that up so much and we finally got to experience that, it was just super fun beating them."
Now entering their sophomore season, Vallone and fellow freshman starter Ella Wolf feel their roles will now elevate with a full season under their belts.
"I think our role this past year was just being like a silent leader or just someone to have our teammates back," Vallone said. "Now, I think me and Ella both want to work on becoming leaders and being more vocal on the field."
The Bulldogs will begin their quest to defend their Midwest regional title this upcoming fall. While the championship season will be remembered for the immense goal scoring performances, there's no doubt Vallone and the defense have proved their worth going into 2023.