The David L. Eisler Center ballroom sounded like a happy dog with two tails during the Student Fashion Alliance's annual fashion show.
The members of this registered student organization have worked tirelessly to put on this year's show. President Bill Pink made a special guest appearance with his speech about Martin Luther King Jr., and the Golden Majorettes opened the show with a dance routine, stirring up the already rowdy crowd.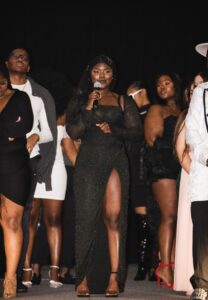 Different style aesthetics such as athletic, vintage retro '90s, be real, streetwear, elegance, him and hers and around the world were presented. SFA president and integrative studies senior Fatou Thiam was the first model to walk as she opened up the show in a Senegal soccer uniform.
Her inspiration for this year's show came from two sources: her dad and students around campus. She chose segments that she felt related to students and recent popular trends. The love of fashion she shares with her father also played a big part in her creative process for the show.
"My dad is a tailor, but in my eyes he's a fashion designer. Like I said in the show, many of the dresses I wear are made by him," Thiam said. "He's always inspired me to have fashion included in my life, even if I'm not pursuing it career-wise."
Back-to-back national football champion Marshawn Lee was another model in the show. Lee, a junior in the mechanical engineering technology program, sat on the SFA's board as committee chair. Lee showed off his runway walk and flexed his gold ring from the 2022 championship. Lee expressed his gratitude towards the audience, the support from his teammates and leadership from President Thiam. He hopes to "take on a bigger role" as vice president next year.
"Believe it or not, last year one of my friends dragged me to a practice, and that's how it all began for me," Lee said. "I'd always been interested in fashion, but this RSO inspired me. I'm looking forward to stepping up and playing a bigger part in helping the fashion alliance grow."
The crowd did not lack encouragement. Many of the attendees came to watch their friends live out their dreams. Social work senior Makayla Babson went to support one of her best friends.
"My favorite segment was probably the '90s because I love that style. It was great getting to watch my friend in an element he thrives in," Babson said.
When Joshua Blankenship, a model in the show and a business administration junior, was asked what made him to join this year's show, he explained how his friend introduced him to the SFA. From there, no one had to twist his arm, he just had to follow his heart.
Specifically talking about the around-the-world segment, where models, including international exchange students, strutted along the runway in garments relating to their homeland, business administration and management freshman Irelyn Stone loved the diversity of this year's show.
"Something I enjoyed about the show, and I wish bigger brands would do, is the diversity. Expressing who you are, your style and where you came from in the fashion industry should be a bigger thing," Stone said.
As it was social work sophomore Bryann Hill's second year as a model in the show, she believes that cheering her friends on and "screaming their names" is what makes the show's environment so good.
"I loved seeing my teammates express themselves through the outfits they wore," Hill said.
Business management senior and SFA member Tylor Robinson shed some light on how the students build each other up before the show.
"Tough love… We tell them to look in the mirror," Robinson said.
He expressed how pleased he was with the SFA's progress since he joined in 2019. He believes that each year the show advances and becomes more of what was envisioned for it.
Thiam has worked around the clock for two years to make sure she lives up to her own expectations.
"I did have a lot of sleepless nights and some tireless days, but I really put my foot in when it came to this last fashion show," Thiam said.
Ending the night off by bringing all the models on stage to accept the audience's admiration, the room shook with joyous amounts of love. The audience vocalized their appreciation and respect for the graduating seniors, and heartfelt moments unfolded onstage. One final roar echoed throughout the ballroom and it was a wrap on the SFA's 2023 fashion show.