Student leaders from over 60 political, cultural, athletic and Greek organizations gathered in the David L. Eisler Center to recruit new members last Thursday.
The spring fair invites registered student organizations from every corner of campus together to connect with potential members. Though the room was filled with people from all walks of life, Greek and cultural organizations were especially hard to miss.
Clad with their vibrant purple and bubblegum pink, members of the Sigma Lambda Gamma sorority were pleased with the fair's turnout. Nursing and Spanish senior Elizabeth Huerta is the president of SLG. She and Vice President Nina Barber spoke about the importance of connecting with the community through cultural groups.
"Thankfully, our colors are very attractive," Huerta said. "That's why a lot of people come up. It's very nice talking to people about our sorority and to get to know them in general."
As leaders of the only multicultural sorority at a predominantly white institution, the two aim to foster a home away from home for students from all backgrounds.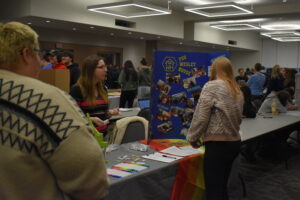 "We're the first and only multicultural sorority here at Ferris State. I love how diverse my sorority is, and I also love our principles. Academics is our main one, which I go by," Huerta said.
SLG engages with Ferris during many welcoming events, including their work for Breast Cancer Awareness Month and collaborations with other groups like the Hispanic Student Organization.
Third-year biotech student Alex Guzman-Vargas is the HSO treasurer. He attended the spring fair to invite new students to join the group and promote their upcoming projects. On Tuesday, Jan. 31, the HSO will be hosting an Art Day at 7 p.m. in IRC 131. Students are welcome to come decorate paper bags, which will be donated for public school lunches.
Ferris is also home to career-oriented Greek organizations, such as Phi Alpha Delta, the oldest and largest law fraternity in the country, and Lambda Kappa Sigma, a sorority for women in pharmacy.
Christian organizations such as Real Life and Wesley House set up tables at the spring fair for students wanting a spiritual community on campus. Social work junior Devin Bearer of Wesley house drew in potential members with a rainbow pride flag and custom-made pronoun pins.
"We definitely have more reaffirming banners that are on our front lawn," Bearer said. "If you go by the [Wesley] House, you'll see this big navy-blue banner that says everything, '[If you're] questioning, if you're undocumented, if you're any shade of skin color, no matter what you are, God loves you, and so does Wesley.'"
Wesley House members used the fair as an opportunity to promote their upcoming mission trip to Mississippi, where they plan to "save some sea turtles, work with non-profits and help out in any way that [they] can."
Finally, for students looking for a new sport to fill their time and relieve stress, business administration senior Zarin Burns promoted the MMA club. Without any vibrant color scheme, pin maker or even a poster, Vice President Burns relied on a welcoming smile and passion for the sport to find new members.
"I would say most [new members] have no experience at all, which is a lot of fun," Burns said. "Because a lot of people have that barrier of entry, that they're afraid like they don't have what it takes. Really, it's a low stakes type of club where anyone can join, have fun and definitely learn something."
The MMA club meets at 7:30  p.m. on Wednesdays and Thursdays across from the Student Recreation Center's indoor track.
For more information about Ferris' RSOs, visit the Bulldog Connect website or the Center for Student Involvement in the David L. Eisler Center.