Out of nearly 300 Division II college athletic programs in the country, few get to experience the only downside to having so many teams making the postseason: the scheduling.
Ferris is middle of the pack when it comes to the amount of athletic programs that the university has to offer. However, we have become one of the premier blue chip programs when it comes to having success out of the regular season. Just last year, five teams made it into playoff contention, making the work schedule of many athletics staffers very difficult.
Two men that wear many hats for Ferris State Athletics are associate athletic director Rob Bentley and athletic communications associate Harrison Watt. The pair have their hands full when it comes to promoting the programs at Ferris, and, despite the chaos that comes with successful teams, somehow they make it work.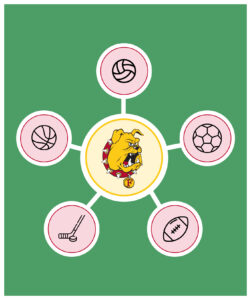 "The outstanding success of many of our teams makes it challenging when sports seasons overlap," Bentley said. "But it is a great problem to have."
The most stress comes during the shift from fall sports to winter sports. Football specifically, playing all the way until December ever since the 2016 season. Each year volleyball flirts with the potential of hosting the regional tournament as well, which means eight teams need to find times to practice, eight teams need lodgings and seven games will be played over a span of two days. Not to mention, the women's soccer team reached the Final Four in Seattle this year, and because of scheduling conflicts for Watt and Bentley, athletics intern Brody Keiser had to travel to Seattle and become the liaison between the NCAA and the soccer program.
By itself, the fall sports season is a puzzle that takes many brains to solve, but it gets even more hectic with winter sports thrown into the mix. Just to get a glimpse into what can happen when these two seasons overlap, both basketball teams had to move their games to Big Rapids High School, the volleyball team had to turn Jim Wink Arena into a place where a team could even play volleyball and hockey's all day preparation meant a group of interns had to run an entire regional championship.
"We're already a very small staff comparative to the number of teams and athletes we serve," Watt said. "We're fortunate to have a great student staff, and in the end, it's all completely worth it to see our teams succeed like they have been."
It may not always be pretty behind the scenes, but it takes a team to make things run smoothly. Even though it can get stressful and chaotic, the athletics staff at Ferris wouldn't want to have it any other way.
Editor's note: Brody Keiser is both the sports editor for the Torch and an intern for Ferris athletics and did not contribute to the reporting of this article.