For National Stalking Awareness Month, the Anti-Violence Alliance is tabling to discuss the telltale signs of stalking and to distribute resources to help protect students.
Every Tuesday and Thursday in January, members of the AVA set up their table in the David L. Eisler Center to inform students on how to identify stalking and where to seek help if necessary. According to the Department of Justice, stalking is defined as "a pattern of repeated and unwanted attention, harassment, contact or any other course of conduct directed at a specific person that would cause a reasonable person to feel fear."
Melody Antel, the AVA's violence prevention coordinator, says stalking derives from a feeling of control when in a relationship.
"It's all about that power and control," Antel said. "Stalking commonly goes hand in hand with domestic violence or with sexual violence. A lot of the time in domestic violence, when someone does stalking it's to have power and control over their victim. Whether that is because the victim has broken up with them or the relationship is over, they still want to be a part of that person's life."
Antel says stalking harmful because it is driven by the desire for control of and power over the victim.
According to the CDC, about 1 in 6 women and 1 in 17 men have experienced stalking, 54% of female victims and 41% of male victims experienced stalking before the age of 25. In a 2018 campus climate survey, 28.8% of Ferris students reported experiencing stalking behaviors.
"Stalking can be a lot of different things," Antel said. "It could be showing up to a place [when] you know that person is there. It could be stalking them online or location stalking if you have their location on Snapchat or shared through your contacts, then [utilizing] that information to know where that person is. Stalking is all about the feeling like you have power and control over a person."
If a student feels they are being stalked on campus, there are a few steps they can take to help them feel more at ease.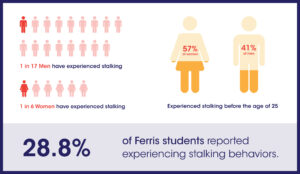 Students that live on campus can make a formal complaint with the housing office. Medical laboratory sciences junior Kameron Kavanaugh is a community advisor for East Campus Suites and says making a formal complaint can notify housing staff to review hall procedures and how to keep themselves safe when inside the building.
"We don't necessarily 'out' anyone because that's not respecting their privacy," Kavanaugh said. "We just make sure that it's known across the community that you make sure you lock the doors at night, make sure you don't allow anyone you don't recognize into your building [and] don't swipe people in for you unless you're with them."
Kavanaugh says housing and staff want to do their best to make all students feel safe and at home when deciding to stay on campus.
"The best that we really do is if they live here, [if] it's in the community and you think that you're getting stalked, we protect that resident and make sure that they feel safe where they live," Kavanaugh said. "If they're outside the community, we just kind of put up warnings letting people know and do floor meetings."
Students who live off-campus, or those who would like more assistance, can contact the AVA by going to their offices in the Birkam Health Center, speaking with their peer educators at table events like this one or contacting Title IX.
The AVA can be emailed at Prevention@nullferris.edu, and Title IX can be reached at (231) 591-5000.
-edited by M.L.