After a six-month vacancy, Becca Osborne is the new LGBTQ+ Resource Center director.
Osborne went to school in Finley, Ohio and got a job at Marathon Petroleum shortly after. Their educational background is in criminal justice and psychology, which they undertook with the hope of working in security. After working in security for about a year and a half, Osborne moved up to Big Rapids.
When they were in Finley, they volunteered at a local LBGTQ nonprofit. The work they put into that nonprofit translated to the work they get to do here at Ferris as the new director.
"I've always wanted to work with LGBTQ. I mean, I'm a member of the community myself, and it's something near and dear to my heart. And I always wanted to help out the community as best as I could," Osborne said.
Osborne wanted to get into a line of work that felt meaningful to them, one where they felt like they were helping people. After a while, they felt that the criminal justice system was just too flawed.
"Doing something in that field, it's so flawed, and it's so geared away from helping marginalized communities that I just couldn't put myself in that position," Osborne said.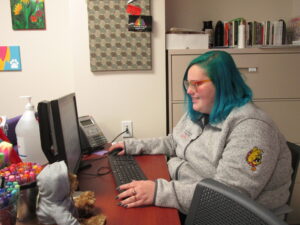 After asking themselves which population they are able to help, they realized they knew a lot about and have a lot of experience within the LBGTQ community. That's when they found that the director position at Ferris was available. Even though Osborne believed landing the position was a "long shot," they applied anyway.
Osborne didn't have many resources available to them while they were in their undergraduate program, so being able to provide others with a physical space that's funded and promoted by the university is "pretty cool" to them.
There were only a few staff and faculty in their undergrad program that were openly "out," and Osborne and other students in the community leaned on them for support. Osborne wants to be that for students who need it.
"I just needed something different. Something more fulfilling, you know… You don't have to work the jobs that drain you," Osborne said.
To Osborne, the new full-time position has been "really refreshing." A project they have been working on so far is creating an ally directory that contains the names of local businesses that are willing to identify as LGBTQ affirming and supporting. This will give students safe places to visit in town.
"I'm just trying to get more resources for students and then helping them really with whatever they need," Osborne said. "I really want to be student-focused. So if, you know, a student comes to me and they have a very specific problem, I still want to be able to help them with that. I want them to feel safe enough to where they can focus on like, studies. I mean, they're here to go to school, so I want them to be able to focus on that."
Osborne wants to make sure there are pronoun and name policies in place, which will make "their life while they're here easier." Osborne wants students to be able to look back on their time at college and think about the good experiences they had, instead of things being hard for them because they came out.
Technically, Osborne is the only person in their department, and their job description is "a little all over the place." They are a firm believer in quality versus quantity when it comes to programming. They want to have a couple of solid events that are run well and considered "staples."
"I am first and foremost an advocate for queer students in terms of name changes, pronouns, making sure they have adequate housing that they feel safe in [and] trying to get gender-neutral restrooms more prevalent on campus," Osborne said. "I'm looking at programming, planning projects, peer support, student support, mentoring [and] trying to help with policy change."
Public relations junior Faith Oom described the time before having a director as "chaos." She felt that a lot of work fell on the students and that projects they all wanted to do were pushed back because everything else had to be taken care of. Now that there's a new director, she believes there is an opportunity to do both new and shelved projects.
Oom described Osborne as an awesome, kind, caring and very dedicated person. She sees the future of the LGBTQ+ Resource Center as "bigger and better."
"This isn't just like a side job. This is what they want to do, and it feels that way, and so just having them here is like a huge game changer. I wouldn't want anybody else running it," Oom said.
Social work graduate student Bryce Longenberger started working at the center as an intern. They then filled the interim director role after Sarah Doherty, the center's previous director, left. He is now a board member of Pride Big Rapids, which the center collaborates with at times.
"From the moment they started, they were very knowledgeable about queer and trans students [and] the challenges that they face," Longenberger said. "They're personable. I think they've done a great job of jumping in and planning events already and making connections with other Ferris faculty and staff. I've been very impressed by the work Becca has done."
Longenberger believes that a lot of opportunities have opened up since Osborne was hired and that the center is headed in a good direction. Now that the director position has been changed from part-time to full-time, he thinks the center can "branch into things they didn't have the capacity to do in the past."
"Anything I can do to share my story — how I grew up, how I feel about things — to let students know that it's okay to be whoever you want to be and to have whatever feelings you have, and being able to talk about it in a safe space, is super important," Osborne said.