Big Rapids Nutrition's closing party was a hub for "music, good vibes" and teary-eyed goodbyes.
On Friday, Jan. 27, the shake and tea café ended its four-year run in downtown Big Rapids. Members of BRN and the greater Big Rapids community are mourning what they felt was an important "safe place" near campus.
Owner and Herbalife coach Erica Hansen is closing the storefront to focus her professional life on fitness and coaching. Still, she is proud of what she created in Big Rapids.
"[BRN] was a home away from home for people, a safe place for a lot of the students that would come in here," Hansen said.
Hansen was not new to operating a nutrition storefront when she first came to Big Rapids. Looking for ways to expand business beyond her first store in Grand Haven, Hansen knew BRN had potential the day she found the location.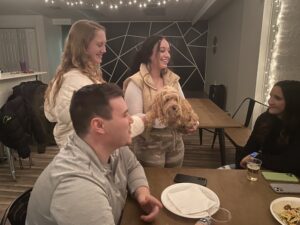 "I wanted to create something along [the] lines where you look out around and you have so many people of different races, ages, backgrounds and cultures to create a home. One space for them and everybody [to] interact in a peaceful way," Hansen said.
When BRN employees explained what made the spot so unique, their first answer was always Erica. Even while running a popular, trendy downtown storefront, she never viewed herself as a "boss."
"I don't like the word 'employees,' honestly. I'm not a boss." Hansen said. "There was no difference between me and them as owners and operators on the bar. It was just all people working the shifts. We're all equal, and we're all friends. Every decision, honestly, was made together."
Even when Hansen made the decision to close the storefront to focus on nutrition from a fitness standpoint, her friends and coworkers supported her. 
Elementary education senior Hailey Clifford worked at BRN for a year and a half, though she said it never felt like a job. When she first received the news, Clifford had a "sob fest" with her close friend and employer.
To show Hansen how much the BRN community appreciated her work, Clifford collaborated with other employees and regular customers. Together they put together a video commemorating BRN as Hansen moves on to other endeavors.
"It was sad, but I think it is a step in the right direction for Erica and what she does next in her life," Clifford said.
BRN was Kassidy Vredeveld's place for accountability on her health journey. The BRN employee, Ferris alumna, Shimadzu Core Laboratory technician and Herbalife coach partially attributes her recent weight loss to the community she found here.
"It's a community that is committed to growth with you, so you don't have to do it by yourself anymore," Vredeveld said.
Looking around the room, Vredeveld noted that she saw a group of real friends, one that was already planning "family dinners" to stay in each others' lives as the storefront closes. 
Customers, employees and friends alike believe that none of this camaraderie would have been possible without Hansen's efforts.
"That really does start with just being a genuine person and somebody who actually cares about our customers in a… way that they become friends and family," Hansen said.
Digital media software engineering sophomore Amaya Watkins can attest to this. Starting as a local customer in 2020, Watkins climbed the BRN community ladder to become an "honorary employee" and roommate to Erica.
"Erica was like another big sister to me," Watkins said. "Erica is just friendly. She's genuine. Anybody that walks in here is part of BRN, and she makes everybody feel welcome."
The attendees of Friday night's party agreed that there is no place in Big Rapids that could immediately replace BRN.