This weekend was certainly a dominant weekend for Fenton Michigan native Chloe Idoni, who led the Bulldogs with a GLIAC Player of the Week performance. 
Her performances helped the Bulldogs earn two huge home GLIAC wins over Northern Michigan and Michigan Tech, two top conference teams.
Ferris (13-7, 6-5 GLIAC) began the weekend with a 63-60 upset win over Michigan Tech on Thursday. Using an eight-point halftime advantage, the Bulldogs held off a final flurry of Husky three-pointers to seal the three-point victory against the conference's top team.
"We wanted to be the aggressor, and I felt like [in] those first three quarters we did a great job with that," head coach Kurt Westendorp said. "I was pleased that we worked so hard to build the cushion we had because we knew they were going to be making runs. I'm proud of our girls' toughness, and [we] were the tougher team tonight."
Idoni led the way for the Bulldogs with 34 points and 10 rebounds, which was her eighth double-double effort on the season. Mallory McCartney, Kenzie Bowers and Grace Sullivan each added seven points for Ferris. Bowers added eight rebounds, while McCartney registered eight assists for the Bulldogs.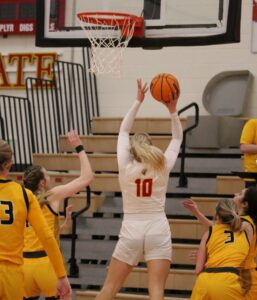 "I give so much credit to the guards on my team," Idoni said. "They put the ball in my hands, and I got great opportunities to score."
Despite committing 14 turnovers in the second half, the Bulldogs outrebounded the Huskies 17-14 in the final 20 minutes and improved their shooting percentage from 35.5% to 42.1%. Ferris outshot the number fourteen three-point shooting team in the country 35.3% to 32.0%.
"[Michigan Tech] only making eight of 25 from three is an off night for them," Westendorp said. "We wanted to crowd them as much as possible and make them feel uncomfortable."
On Saturday's finale, Ferris continued their winning ways by defeating Northern Michigan 72-55.
The Bulldogs got off to a hot start, outscoring the Wildcats 18-10 in the first quarter. Ferris used a full effort in the transition game, scoring 13 fastbreak points and 19 points off 17 forced Wildcat turnovers to pull away to their 13th win of the season.
"I think we did a nice job of really sprinting the floor hard," Westendorp said. "We were stopping them and getting rebounds. I felt like everyone ran the floor hard, whether we got a layup out of it or a trail three."
Idoni dominated again with a 30-point effort, followed by Bowers with 12 points. McCartney added nine assists with her eight points. Bowers had nine rebounds, five assists and four steals. DeShonna Day finished with eight points and three steals, while Elle Irwin recorded five rebounds.
Bowers said her team did very well with rebounding.
"They have a bit of a height advantage, so one of the big keys was just owning the boards," Bowers said. "We knew if they could be even or plus on the boards for the night, we could definitely get the win."
With the weekend victories, Ferris pulls within one game of fourth place Northern Michigan, and they're only a half game behind Saginaw Valley State for fifth in the GLIAC standings. The Bulldogs will now travel to face third place Wisconsin-Parkside on Thursday, Feb. 2 and Purdue Northwest on Saturday, Feb. 4.