The Bulldogs went 2-0 this weekend when they took on Michigan Tech University and Northern Michigan University, improving their record to 17-5 overall and 8-3 in GLIAC play, good for first play in the conference.
With the wins this weekend, the Bulldogs moved into first place in the GLIAC and avenged previous losses to both teams.
The Bulldogs defeated Michigan Tech University 78-50 in a matchup where the Bulldogs dominated on defense throughout the game.
The Bulldogs held Michigan Tech to 28.6% (18-63) from the field and 32.3% (10-31) from the three-point line, while holding Michigan Tech to only five free throws and creating 15 turnovers.
Offensively, the Bulldogs shot 58.8% (30-51) from the field and 50% from the three-point line (6-12), while getting to the line 15 times, making 12 for an 80% clip.
The Bulldogs outrebounded Michigan Tech 42-26 and created more assists 23-15.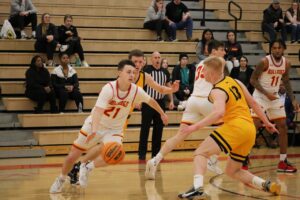 The second half is where the Bulldogs did most of their work, offensively shooting 62.1% (18-29) from the field and 57.1% (4-7) from three-point range.
The big second half was led by Ethan Erickson, who had 12 points in the second half going 4-5 from three-point range off
the bench.
"My teammates set good screens," Erickson said on his scoring burst in the second half. "So I just kept running [at] them, getting open looks, and they were finding me."
Leading the Bulldogs in scoring was Solomon Oraegbu with 20 points. Erickson added 15 points, Dolapo Olayinka and Jimmy Scholler scored eight points and Ben Davidson and Vejas Grazulis both added seven points.
Amari Lee led the Bulldogs in assists with eight, Scholler added five assists and both Olayinka and Davidson had three assists.
Leading the Bulldogs in rebounds was Mykel Bingham with seven, Olayinka and Scholler both had six rebounds and Oraegbu added five rebounds.
The Bulldogs then shifted their focus to a tough matchup with Northern Michigan University. The Bulldogs would need overtime to defeat Northern Michigan 106-93.
After trailing 48-34 at the half, the Bulldogs were able to fight back and tie the game late in the second half at 88-88 after a layup was made by Oraegbu, who was fouled on the play and had an opportunity for a three-point play.
"Keep our heads up, stay positive, stay aggressive," Oraegbu said. "We just came out in a second half, and it made it happen. It was a team effort."
Oraegbu had two points in the first half and 17 second-half points to lead the Bulldog comeback.
Oraegbu made nine straight free throws as he went to the line with a chance to go up by one with two seconds left in the game. He missed the game-winning free throw that would send the game into overtime.
"I wanted to make it, of course," Oreagbu said. "But honestly, at that point there was such a great effort for us to come back, and I just knew that over time we had it."
In overtime, the Bulldogs outscored Northern Michigan 18-5, which led to the Bulldogs' victory.
"Oh my goodness," head coach Andy Bronkema said. "That was an amazing finish, and you know the crowd got a treat because Northern Michigan's really good. Our guys came out and competed in the second half, and they never gave up."
Leading the Bulldogs in points was Oraegbu with 27 points. Erickson added 15 points, Olayinka and Davidson scored 13 points and Lee added 12 points.
Lee led the Bulldogs in assists with 12, and Davidson, Scholler and Erickson all finished with three assists.
Bingham led the team in rebounds with 12, Olayinka had seven rebounds, Ben Davidson had six rebounds and both Oraegbu and Reece Hazelton finished with five rebounds.
The Bulldogs will be back in action when they go on the road to take on the University of Wisconsin-Parkside on Feb. 2 at 8:30 p.m. Then, they'll head to Purdue University Northwest on Feb. 4 at 4 p.m.