Ferris professors are a part of a lot more than just academics. Outside of the classroom, English professor Roxanne Cullen can be found around the Big Rapids community.
In addition to being an English professor, Cullen is also the integrative studies program coordinator at Ferris. Cullen began her career at Ferris in 1983 — this upcoming academic year will be her 40th year. She took the job at Ferris because it was geographically similar to Upstate New York, her home before Big Rapids.
"I love having all the outdoors and the rivers," Cullen said. "Then my husband got hired, and so once you have two people with steady jobs in a place, it's hard to leave."
Cullen's contributions and titles don't end at Ferris. Just down the street in downtown Big Rapids, Cullen can be found volunteering at Artworks.
Artworks, shortened for Big Rapids Area Arts and Humanities, is the home to a gift shop filled with unique artwork made by members of the community and a gallery that changes themes every eight weeks. The building was purchased in 2006 and has hosted many classes, exhibits and events. Cullen was quickly drawn into Artworks when she and a friend decided to take a basket weaving class.
Jeanette Flurry, former ISD superintendent and basket weaving instructor, started getting Cullen involved in things around Artworks. Shortly after that, Cullen became an Artworks board member when Flurry approached her eight years ago. During these eight years, Cullen was board president for an extended term during the beginning of the COVID-19 pandemic. Her interest in Artworks began with the people already involved.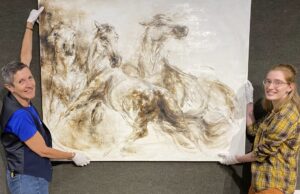 "The people here have a really great sense of community," Cullen said. "We all volunteer and give to make this possible."
During her time as board president, Cullen believed in the importance of the arts and exhibits. As Cullen approached the end of her term, she was able to start contributing as an exhibit coordinator.
"That was very exciting to me because it combines two interests for me. One is my interest in the visual arts, [the other is] my background in literature and humanities," Cullen said. "We always try to incorporate humanities programming with our art exhibits."
Since Cullen started volunteering at Artworks, she has seen plenty of familiar Ferris faces. Cullen has been able to work with former professors who stem from non-art-related fields at Artworks. To her, it was just amazing to see everyone working together toward one common appreciation.
Similar to others involved with Artworks, Cullen is always ecstatic to talk to anyone who asks about it. Cullen takes pride in all that has been accomplished since the building was purchased, especially the exhibits.
"For a number of these exhibits, we've had pieces from the Costa County Historical Museum and the Grand Rapids Public Museum," Cullen said.
Cullen loves the wide variety of exhibits she's been able to be a part of with her position. These exhibits have ranged from art in the community to even larger community projects. One of these projects was the exhibit Artworks once put on called "What's in the Truck," where Cullen and others at Artworks reached out to local manufacturing companies to show what they do. The exhibit was just one example of the collaboration that Cullen is happy to be a part of.
Between her job at Ferris and her volunteering position at Artworks, Cullen keeps busy. She currently teaches two online classes of 29 students and advises about 100 students, with approximately 15 graduates every semester. Even with all of these responsibilities, Cullen keeps on top of everything with a positive attitude. She only wishes that students would take more time to explore and be a part of the Big Rapids community.