The Office of Multicultural Student Services welcomed the reactivation of the Black Student Union.
The BSU is a registered student organization that advocates for all Black students on campus, as well as students of other minorities. If a student voices their opinion during a meeting, the organization will contact relevant staff and faculty about the issue. They will also create petitions, march or protest for the matter if deemed necessary.
This RSO has been in the OMSS since the '80s, but its members eventually graduated and the RSO got lost in the cracks. That was until graduate Lydia Reynolds started it back up.
Criminal justice freshman Lauren James originally joined the BSU's eboard as vice president, however, she took over Reynold's position as president when she graduated.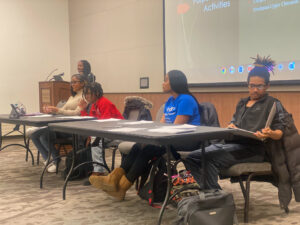 "I wanted to join [the] BSU because when I was in the 10th grade my sister told me about it," James said. "I really wanted it to be… a space for Black people where they can talk about the ups and downs of being a Black person."
Although James is only in her first year at Ferris, she has already gained recognition by taking over the president's role and fulfilling the responsibilities of the organization.
"It's kind of nerve-racking," James said. "I know that a lot of people are looking at me because I am a freshman, but I'm also happy because I get to show people what I got."
General business sophomore Nick Green also joined the BSU when it was reactivated and became the organization's treasurer. Green joined the RSO for the unity and representation of Black students.
"Unity is very important because we could all decide on one thing if we were able to sit down and decide what we want, but there's no taking the steps forward. That's just a waste of time and that's been going on. So that's why it was very important for [the] BSU to come back," Green said.
OMSS Director Danyelle Gregory became the BSU's advisor in November. Gregory assisted with bringing back the BSU to make Ferris more inclusive and welcoming.
"I hope [the] BSU accomplishes all of the things that they wish to accomplish and, additionally, [connect] with Black faculty and staff," Gregory said.
The BSU had its first meeting this semester on Monday, Jan. 23. This meeting allowed students to share their ideas and voice the issues they face on campus that they feel need to be addressed. Some things that came to the eboard's attention were advising issues, air-conditioning in West Campus and Black representation on campus.
James led the conversation to hear students' points of view. During this, she also learned that students struggle with parking spaces and the scarcity of Black beauty supply products around campus.
The eboard heard the students' concerns and plans on talking to certain people about helping the students and assisting in any way they can. Students can join the BSU by attending at least two meetings. After that, they are required to pay a $15 membership fee and attend three BSU events.
James welcomes all students to join the BSU, however, she is looking for someone who promotes what the BSU is all about. Someone that wants to do things for not just themselves, but for their people and community.
"BSU is really trying a whole outreach where we change people's input on things and the way they view things, so I would look for someone who is motivated by their people to change and think for a better community," James said.