The Center for Latin Studies has continued to thrive in its community without the guidance of an executive director.
Since Oct., the CLS has been hosting activities, informational events and creating space for all students to feel welcome with the support of the Interim Director, the Promesa Scholars Coordinator and multiple student workers.
Interim Director Sonia Trevino says the previous executive director, Kaylee Moreno Burke, left the university in the fall to pursue another job in Grand Rapids. Burke had been executive director for one year before deciding to leave the CLS.
"For me coming in," Trevino said. "It was very imperative that the students that come here feel comfortable because the center has always been a safe, inclusive space for students not just from the Latin student population, but from anywhere at Ferris."
Trevino says she was hired by Burke in Oct. to take over the duties of the center and they have been working business as usual. She says the transition from not having Burke anymore was not too difficult as she kept the students at the forefront of her mind.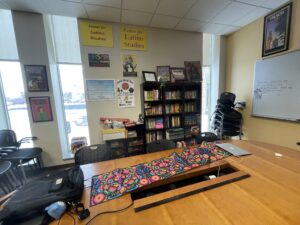 "I wanted to make sure that in the transition the center remained open, it remained a safe space for students just to come and be themselves and be in an inclusive environment," Trevino said. "We're here to serve our students through inclusive programming. We want to make sure that everyone has an opportunity to participate. For me, the most important part of that transition was making sure that the students knew that the goals and the mission of the Center for Latin studies had not changed."
The goal of the CLS is to increase Latin student completion rates by "informing the holistic student experience, maximizing equitable educational outcomes and career readiness through advocacy, community partnership, and culturally responsive academic, career, and personal development."
In the fall, the CLS paired third and fourth-year students with social work students to provide information on questions, mental health issues and resources Ferris has available for them.
The CLS has paired with multiple RSOs on campus to help their members interact and gain information available to them, but also to build community and let others know they can be another place students can feel safe and accepted.
Promesa Scholars Coordinator Massiel Calderon says at the end of Feb., the CLS will be hosting a film festival and carnival celebration in collaboration with the Office of International Education.
"We've been speaking to professors from the language department, and we've been spreading the word to other departments," Calderon said. "[With the carnival] we can create a little bit of awareness of what a celebration looks like in different parts of the world. We're trying to include the Caribbean, Central, and South America. I'm looking forward to speaking to the director of the art gallery to see if there are any art students from the art department because a carnival is centered around art and creating. We're hoping that with the help of some of the academic departments, we can get more of the student body to come with their influence."
Calderon says they have been taking a different approach to outreach than before, reaching out to other RSOs and also hosting financial aid and career workshops. Calderon's goal with every event they host is reaching out to all the different departments and creating a more fluid space of different identities and backgrounds.
Throughout all of this, Calderon says Trevino has been doing an amazing job as Interim Director and has all the qualities to become executive director.
"There has not been an idea that I went to Sonia that she gives me any kind of boundaries for," Calderon said. "She is very driven and she's, she just goes for everything. The carnival celebration was completely made up by me and another student. She was like, Yeah, let's go. So Sonia has been instrumental in giving us a voice to create programming that applies to us, and that we can have students be exposed to [these events] for the first time, or be a part of it and just get to see different things. If you see different things happening on campus, students can then think, there's a space for this, or there's a space for me, and it just opens the door for different things."
At the moment, the search for a new executive director has not started but Trevino says the idea is that the search will be nationwide. Some of the qualifications for the position are a master's degree and previous experience working with a Latin population.
Until the search begins, Trevino and Calderon are confident in their teamwork together, alongside their student workers, to continue the goal and vision of the CLS and connect with other groups on campus.
For more information, students can go to the CLS in room 131 in the IRC or check Bulldog Connect for upcoming activities.